PFAS / AFFF FOAM DISPOSAL SERVICES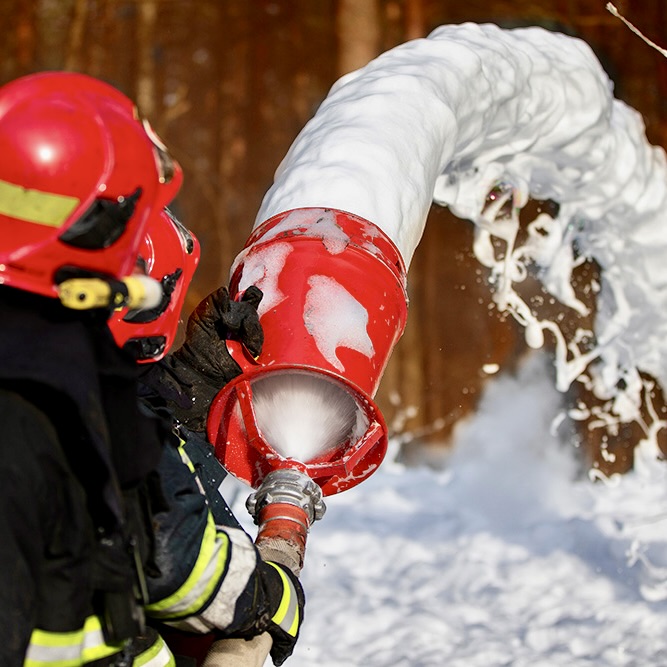 Firefighting foam has long been used as an extremely effective tool in combatting the worst possible fires, especially flammable liquid fires. Unfortunately, research has shown that the most effective firefighting foam, Class B foam, also known as aqueous film forming foam, or AFFF foam, contains PFAS. The potential dangers of PFAS in AFFF foam for firefighting have become well known throughout the firefighting community. The AFFF lawsuit situation is ever-expanding, as AFFF cancer cases continue to climb due to the PFAS foam. HazChem Environmental has already provided PFAS remediation to many fire departments associated with MABAS-IL to dispose of their PFAS foam, and AFFF foam disposal.
HazChem is a full-service environmental cleanup specialist, based in Addison, IL. We can assist with any needs you may have: cleanup of PFAS AFFF firefighting foam, Class B foam, DuoDote or Mark 1 kit sharps, or any other hazardous or non-hazardous products or materials. Our Emergency Response Teams are available 24/7 for on-site emergency service at structure fires, vehicular crash sites, or anywhere else.
PFAS Foam / AFFF Foam
There are two major types of AFFF Firefighting Foam:
Class A Foam is used to extinguish Class A material fires, such as wood, paper, and brush. It has the ability to cling to vertical surfaces without running off. It is used by many fire departments for structural fires using compressed air foam systems. However, Class A foam is useless against flammable-liquid fires, such as jet fuel, burning oil and gasoline, will float atop the foam and spread the fire.
Class B Foam, also called AFFF foam (Aqueous Film Forming Foam), is used to extinguish Class B materials such as jet fuel, oil, gasoline, chemicals and other fluids. AFFF is created by combining foaming agents with PFAS / PFOA (per- and polyfluoroalkyl ) substances. When mixed with water, these form an aqueous film which cuts off the oxygen to the fire, extinguishes it, and prevents it from reigniting. However, PFAS are anything but eco-friendly. According to the CDC, ATSDR (Agency for Toxic Substances and Disease Registry), EPA, and others, PFAS are linked to numerous health issues in both humans and animals, including cancer, thyroid disease, cardiovascular issues, enzyme disruption and more.
Despite the widespread evidence of the dangers of PFAS and PFOA, the EPA has not yet provided final guidance. However, they are getting close, per their recent "Interim Guidance on Destroying and Disposing of Certain PFAS…"
Firefighters are therefore warned to exercise extreme caution when using firefighting foam, as firefighting foam cancer is an extremely critical problem. The cleanup and disposal of dangerous AFFF fire fighting foam is best left to experienced, licensed hazard waste disposal professionals such as HazChem for safe disposal in accordance with safety and regulatory guidelines.
AFFF Containment
The containment and proper disposal of Aqueous Film-Forming Foam (AFFF) is crucial to minimize its harmful effects on the environment and humans. Releasing AFFF directly into the environment should be strictly avoided. To effectively manage AFFF, it is important to follow best practices for containment. These practices include developing a comprehensive firewater runoff collection plan for scheduled discharges, establishing an emergency plan for unplanned releases, installing primary and secondary containment systems on-site, blocking nearby sewer drains, and constructing temporary dikes or booms.
AFFF Foam Disposal
Proper containment of AFFF enables safe transport to a AFFF disposal site. However, it is not recommended to dispose of AFFF foam yourself. Instead, the contained AFFF should be picked up and transported by a certified hazardous waste disposal company such as HazChem Environmental for AFF foam disposal. High-temperature incineration is the most common method of AFFF disposal, involving heating the substance to at least 1000°C with a minimum residence time of two seconds. Accredited hazardous waste disposal companies possess the necessary expertise, resources, and precautions to carry out this process safely and effectively.
Different scenarios may lead to the discharge of AFFF, such as firefighting operations, training, or equipment/system testing. During training, it is prohibited in some states to use AFFF due to its harmful nature. Instead, specially designed training foams that simulate AFFF without containing PFAS (per- and polyfluoroalkyl substances) are recommended. These biodegradable foams have minimal environmental impact and can be safely treated at local wastewater treatment plants.
During equipment or system testing, only a small amount of AFFF should be discharged to ensure the correct concentration of foam in the foam-water solution. This firefighting foam should be directed to a controlled location using foam-water test ports and a portable tank. The tank can then be transported by an accredited waste disposal company for proper disposal. The remaining test should be conducted using only water by closing the foam injection valves.
AFFF Legislation
New legislation regarding AFFF foam disposal has been introduced in approximately 33 states, focusing on regulations related to PFAS in firefighting foams and equipment. These regulations cover areas such as discharge or use restrictions, disposal, storage, inventory, notification and reporting, and limitations on personal protective equipment (PPE). The National Fire Protection Agency (NFPA) is also updating its standards on foam health, safety, and environmental issues to align with national guidelines and trends.
DuoDote Kit and Mark 1 Kit Sharps Disposal
Another challenge facing firefighters today is the disposal of sharps from DuoDote kits and Mark 1 kits. Auto injectors must be handled with extreme caution, as the sharps obviously pose serious risk of injury and health / safety risks. Sharps should be secured inside of approved containers, and held for proper disposal by trained hazardous waste professionals. HazChem will pickup, transport and dispose of DuoDote auto injector sharps and Mark 1 kit auto injectors, adhering to all local, state and federal safety regulations. Waste manifest documents are provided to ensure you of full compliance.
Contact HazChem for your AFFF Foam Disposal or DuoDote Sharps Disposal needs at (630) 458-1910 or sales@hazchem.com
We also dispose of Paint, Mercury, Chemicals, and other Hazardous Waste Materials.
SUPER-FAST 60-Minute Response Time
We understand the urgent and critical nature of your call for service. Our Emergency Rapid Response Teams are ready, willing and able to respond quickly to remedy your emergency situation. Our Emergency Response Vehicles are pre-loaded with 90% of the equipment needed for any emergency situation. The final 10% will be added for your particular needs. This advance preparation enables us to deploy a Team within 60 minutes or less from our facility. Based upon our clients' feedback, this is far better than the typical response time from most of our competitors. Their response is usually measured in multiple hours, and sometimes days or even weeks. Our Team is always ready to deploy, 24 hours a day, 365 days per year, rain or shine, including holidays. We do not rely on automated answering systems for our main phone line (630) 458-1910. Instead, we guarantee that a live person will answer your call, regardless of whether it is a weekend, holiday, or any other day.
We are always open: Call (630) 458-1910 for IMMEDIATE ASSISTANCE.
View all Environmental Services HazChem provides our valued customers. 

Compliant. Responsive. Safe.
 Call 630-458-1910 for immediate assistance. Open 24/7/365
For a FREE, no-obligation quote, click the button below