PHARMACEUTICAL AND MEDICAL WASTE DISPOSAL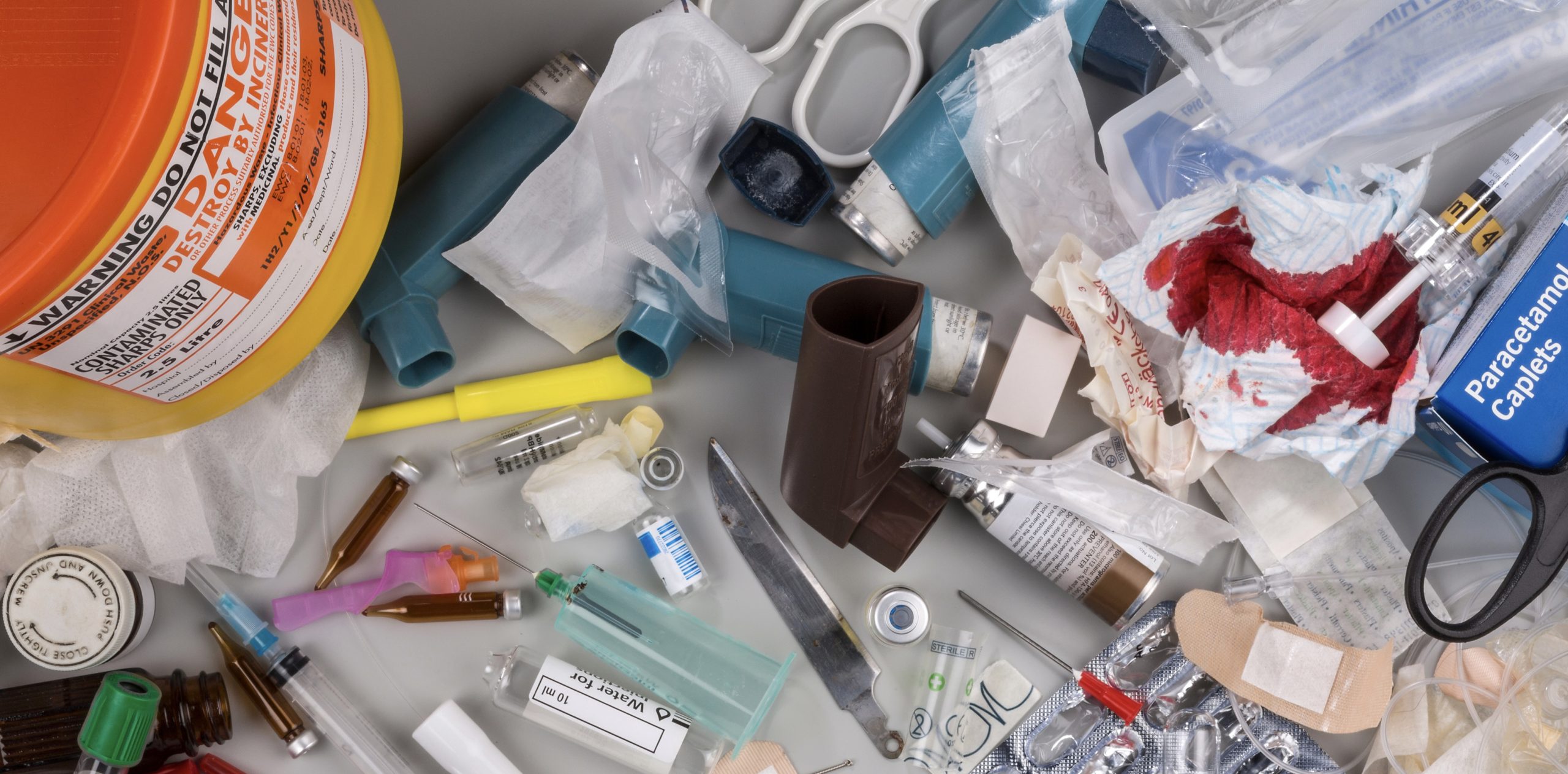 HazChem Environmental provides medical waste disposal, lab pack disposal, and pharmaceutical waste disposal services, as well as biohazard cleanup services.  HazChem guides healthcare facilities to effectively manage regulated medical waste, and pharmaceutical and medical waste disposal. Our comprehensive services include waste characterization and ongoing support for your team members to help ensure safety and regulatory compliance.
The process of staying compliant, at first, may seem overwhelming. The U.S. Department of Transportation (DOT) regulates how pharmaceutical waste is transported to waste management facilities. The Environmental Protection Agency (EPA) enforces the Resource Conservation and Recovery Act (RCRA) that regulates the storage, transportation, and disposal of hazardous pharmaceutical waste. Additionally, individual states often enact state-specific laws related to hazardous medical waste.
HazChem will help you navigate through this process. We take enormous pride in helping you stay compliant with the area, state, and federal regulators. We will guide your staff to a safe, simple, and compliant method of pharmaceutical and medical waste disposal.
What is Medical Waste ?
Medical waste is any kind of waste that may be contaminated by blood or other bodily fluids or contains infectious material; it is also known as regulated medical waste. The primary sources of healthcare medical waste are:
 hospitals
laboratories
dental offices
medical research facilities
doctors' offices
emergency care facilities
mortuary and autopsy centers
blood banks
elderly care facilities
Examples of their medical waste includes:
Infectious disease cultures
Waste from patient's rooms
Expired vaccines
Any clothing, bandages, gloves, etc. with blood or other fluids
Tissue samples
Discarded sharps
The 1988 Medical Waste Tracking Act defines medical waste as "waste generated during medical research, testing, diagnosis, immunization or treatment of human beings or animals". The World Health Organization (WHO) distinguishes between general healthcare waste versus hazardous medical waste. Human tissue, fluids, sharps and contaminated supplies are considered biohazardous, but animal tissue and non-contaminated supplies are considered general medical waste. Over 85% of total medical waste is general, non-hazardous waste. The remaining 15% may be toxic, infectious, chemical or radioactive, therefore considered to be biohazardous waste.
Medical Waste is also known as:
Healthcare Waste
Clinical Waste
Infectious Medical Waste
Red-Bag/ Regulated Medical Waste (RMW)
Biohazardous Waste
Biomedical Waste
The WHO further categorizes medical waste into the following designations:
Infectious waste: waste contaminated with blood and other bodily fluids (e.g. from discarded diagnostic samples), cultures and stocks of infectious agents from laboratory work (e.g. waste from autopsies and infected animals from laboratories), or waste from patients with infections (e.g. swabs, bandages and disposable medical devices);
Pathological waste: human tissues, organs or fluids, body parts and contaminated animal carcasses;
Sharps waste: syringes, needles, disposable scalpels and blades, etc.;
Chemical waste: for example solvents and reagents used for laboratory preparations, disinfectants, sterilants and heavy metals contained in medical devices (e.g. mercury in broken thermometers) and batteries;
Pharmaceutical waste: expired, unused and contaminated drugs and vaccines;
Cytotoxic waste: waste containing substances with genotoxic properties (i.e. highly hazardous substances that are, mutagenic, teratogenic or carcinogenic), such as cytotoxic drugs used in cancer treatment and their metabolites;
Radioactive waste: such as products contaminated by radionuclides including radioactive diagnostic material or radiotherapeutic materials; and
Non-hazardous or general waste: waste that does not pose any particular biological, chemical, radioactive or physical hazard.
Some other interesting facts about medical waste:
5.9 million tons of medical waste per year
16 billion injections per year
2 million needles per day
800,000 needle sticks per year, per the NIOSH
Customized Medical Waste Solutions
At HazChem, we understand that each hospital and healthcare facility is unique. This is due to the number of departments, staff size, and the nature of services each provide that makes hospitals and healthcare providers unique generators. In addition to the prevalent and well-known waste streams, other wastes generated in smaller quantities also require proper attention, such as flammable liquids, xylene, formalin, aerosols, and universal waste.
No Cost On-Site Assessment:
HazChem can begin the process of assisting you with a no-obligation, no-cost, on-site visit for your medical waste disposal needs,Ultimately, we'll make sure there is medical waste characterization and profiling, plans for reporting and licensing, and procedures in place which help to ensure you stay compliant.
HazChem will:
Help identify your waste streams, and ensure they are properly segregated. Coordinate transportation and disposal of your waste materials in the most environmentally friendly method while meeting all local, state, and federal guidelines.
Help your organization maintain compliance with the Department of Transportation (DOT), Environmental Protection Agency (EPA), CDC, OSHA and FDA regulations and meet accrediting agency standards.
HazChem admires the leading role pharmacists hold as healthcare providers in our communities. HazChem provides safe disposal of consumers' unwanted medications and sharps container disposal.
MEDICAL WASTE TREATMENT
How is medical waste treated?
Incineration, Autoclaving, Microwaving, Chemical, and Biological treatments are used, depending upon the nature of the medical waste.
Medical Waste Management Solutions
While your organization is focusing on providing healthcare services to your patients and customers, HazChem is hard at work staying current with the latest medical waste and pharmaceutical waste regulations in this ever-changing industry. With a healthcare focus of 33 years, HazChem is your dependable partner for regulated medical waste, medical waste disposal and pharmaceutical waste disposal requirements.
Our medical waste management services include the following:
Lab pack disposal
Cylinder and Compressed Gas Cylinder Disposal
DEA Controlled Substance Management
Decontamination
Blood cleanup
Emergency Response
On-Site Services
Reactive Material Services
Reuse, Recycling and Reclamation
Waste Disposal Services
Chemical Solvent Recycling
Remediation Services
Sharps container disposal
Red Bag Waste (Regulated Medical Waste) Disposal
COVID-19 Waste
Black Bin Waste (RCRA Hazardous Waste)
Hazardous and Non-Hazardous Pharmaceutical and Biotechnology Waste
Contact HazChem Environmental at (630)458-1910 or sales@HazChem.com for all your pharmaceutical waste and medical waste disposal needs.
SUPER-FAST 60-Minute Response Time
We understand the urgent and critical nature of your call for service. Our Emergency Rapid Response Teams are ready, willing and able to respond quickly to remedy your emergency situation. Our Emergency Response Vehicles are pre-loaded with 90% of the equipment needed for any emergency situation. The final 10% will be added for your particular needs. This advance preparation enables us to deploy a Team within 60 minutes or less from our facility. Based upon our clients' feedback, this is far better than the typical response time from most of our competitors. Their response is usually measured in multiple hours, and sometimes days or even weeks. Our Team is always ready to deploy, 24 hours a day, 365 days per year, rain or shine, including holidays. We do not rely on automated answering systems for our main phone line (630) 458-1910. Instead, we guarantee that a live person will answer your call, regardless of whether it is a weekend, holiday, or any other day.
We are always open: Call (630) 458-1910 for IMMEDIATE ASSISTANCE.
View all Environmental Services HazChem provides our valued customers.

Compliant. Responsive. Safe.
 Call 630-458-1910 for immediate assistance. Open 24/7/365
For a FREE, no-obligation quote, click the button below