INDUSTRIAL CLEANING SERVICES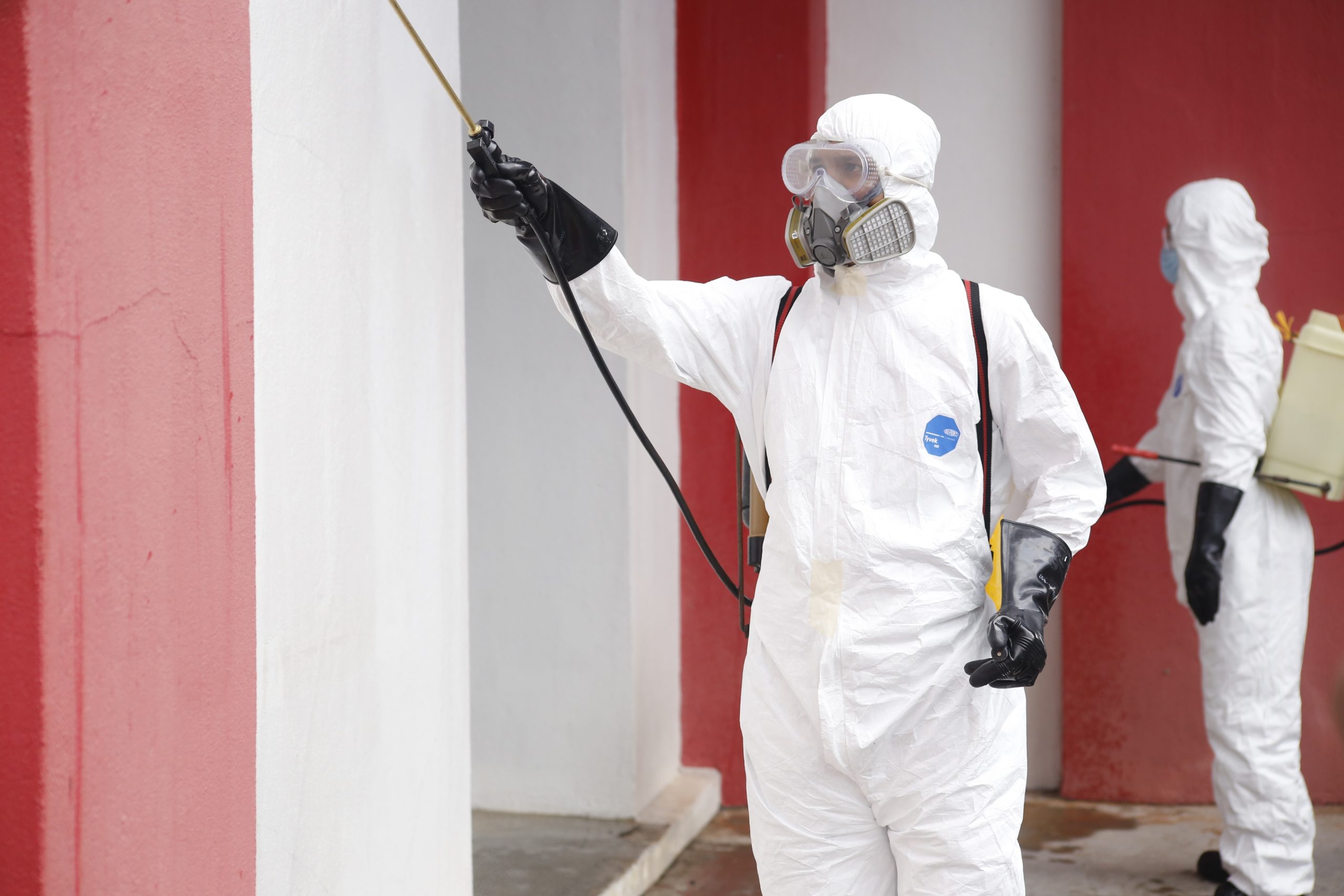 HazChem provides a wide range of industrial cleaning services designed to help you thrive in today's competitive business environment. This includes routine maintenance, decontamination services, disinfection services, biohazard cleanup, underground tank cleaning, Hazmat cleanup, emergency cleanup services, and project management for planned outages. HazChem is committed to delivering quality service with the highest focus on safety to reduce operational costs and minimize disruption to your business.
We have the right personnel and equipment for each specific job, and our team of problem solvers effectively manages cleaning and inspection services for non-hazardous and hazardous materials, wet and dry materials, process equipment, and systems across various industries. Our expertise covers tank cleaning, building and equipment decontamination, general equipment and property cleaning, fire restoration, Hazmat cleanup, smoke cleaning, as well as disaster and damage restoration. Additionally, our crews are experienced in confined space entry cleaning in rail cars, silos, storage bins, storage tanks, process vessels, sewers, boilers, and manholes.
In case of emergencies, HazChem offers 24-hour emergency cleaning services to respond, contain, and control spills. With our experience and advanced technology, we have the full capability to characterize, collect, transport, and dispose of non-hazardous or hazardous waste materials generated during the cleanup process.
TYPES OF INDUSTRIAL CLEANING SERVICES
Distinguishing Between: 
Industrial Cleaning, Decontamination, Disinfection, Sanitization, and Sterilization Services
The terms decontamination, disinfection, sterilization, sanitization, and cleaning are often used interchangeably, but they represent distinctly different processes. To clarify their meanings and help you navigate these concepts for your specific cleaning requirements, we have compiled the reference guide below. This will enable you to engage in informed discussions with industrial cleaning professionals.
Decontamination Services
Decontamination is a broad term which encompasses any type of process that diminishes contamination and pathogens present in an area or on an object. While not precisely defined, it involves reducing the quantity of pathogens by a specific margin. Decontamination services address various pathogens such as bacteria, viruses and germs. It is also used for other types of contamination such as dirt, radiation, and other impurities. Techniques for decontamination range from simple methods like soap and water to more complex methods like autoclave sterilization. The goal is to completely neutralize all harmful sources. Utilizing biocides, such as sodium hypochlorite-based cleaning agents, along with acids, chelating agents, solvents, and surfactants, helps break down microorganisms' cell membranes, rendering them inactive or destroying them.
Industrial Cleaning Services
Cleaning, as defined by the Centers for Disease Control and Prevention (CDC), involves the removal of visible soil from surfaces and objects. This mechanical or manual process often employs water along with enzymatic or detergent products. The term "soil" pertains to any visible contaminants on surfaces, not limited to dirt. What differentiates cleaning from other treatments is that it does not address invisible microorganisms or contaminants. Therefore even though a surface may appear clean to the naked eye, it could still harbor bacteria, viruses, and other pathogens. Cleaning often serves as a preliminary step or first-stage, enhancing the effectiveness of subsequent sterilization and disinfection procedures by eliminating dirt and other organic matter, therefore making the subsequent treatments more effective.
Sanitization Services
Sanitization, per the Environmental Protection Agency (EPA), refers to using chemical products or devices to reduce the quantity of germs on surfaces and objects. The aim is to achieve a level of cleanliness that is deemed safe according to public health standards. While akin to cleaning, sanitization doesn't guarantee total safety but renders an area safer. It's often employed as a preparatory step for further treatments.
Disinfection Services:
Disinfection, as defined by the FDA, involves eradicating microorganisms and pathogens using chemical or physical means. While less potent than sterilization, disinfection eliminates the majority of microbial forms, excluding certain hardy structures like bacterial spores. Notably, viruses lack spores, making disinfection a vital approach for combating diseases like COVID-19. The duration a disinfectant needs to remain on surfaces varies with the type of disinfectant and can be as short as 20 minutes, or substantially longer, as advised by the CDC.
Sterilization Services:
Sterilization signifies the complete elimination of all microorganisms, including bacterial spores. This is the highest level of decontamination. It must adhere to recognized sterilization agents and approved procedures. Steam, commonly employed through autoclaving, is the preferred sterilization method, provided it is compatible with the surface or object being sterilized.
Methods of sterilization include:
Pressurized steam (autoclaving)

Hydrogen peroxide gas

Ethylene oxide (EtO) gas

Ionizing radiation (for medical equipment)

Dry heat cabinets (for medical instruments)

Infrared radiation

Advanced filtration
Disinfection Best Practices:
While professionals typically handle sterilization, appropriate disinfection can sometimes be performed on common surfaces and items within workplaces. Here are some guidelines for safe disinfection:
Ensure the disinfectant is explicitly labeled as an actual disinfectant by the manufacturer.; check the product label

Be cautious of "natural" products as they may lack the germ-killing capabilities of chemical disinfectants.

Familiarize yourself with the range of microorganisms the product is designed to combat. Read the disinfectant's label to ensure the fungi, bacteria, or viruses it van eradicate.

Adhere to the recommended contact time for the disinfectant.

Use gloves to avoid skin irritation.

Avoid mixing different chemicals, especially

hydrogen peroxide

and bleach.

Store disinfectants securely in a cool, dry place and discard expired products.

Utilize disinfectants in well-ventilated areas, particularly those containing bleach.
Common chemical disinfectants include alcohol, chlorine compounds, formaldehyde, glutaraldehyde, hydrogen peroxide, iodophors, ortho-phthalaldehyde (OPA), peracetic acid, and quaternary ammonium compounds. Other inactivating agents encompass various germicides, metals as microbicides, ultraviolet radiation, pasteurization, and flushing- and washer-disinfectors.
Determining the Appropriate Level of Industrial Cleaning
For scenarios involving COVID-19, decontamination is imperative. HazChem offers tailored industrial cleaning solutions based on exposure levels, high traffic areas, and high touch points in facilities of all sizes. Relying on janitorial services proves inadequate and risky for virus decontamination. The utmost priority is safeguarding facilities, employees, and cleaning personnel through proper training and protective measures.
How to Select a Decontamination Services Company
Effective decontamination can yield significant benefits when executed correctly. Reputable industrial cleaning companies approach decontamination with a meticulous evaluation of hazards, determining suitable processes and technical methods.
HazChem Environmental has over 30 years of experience in the industrial cleaning sector, renowned for crafting customized solutions that achieve unparalleled accuracy. Equipped with vast technical knowledge and abundant resources, our experts provide tailored cleaning/decontamination services to restore facilities promptly and effectively. At HazChem, we continually set industry benchmarks, leveraging our expertise to meet your precise requirements.
Emergency Industrial Cleaning Services
HazChem handles a wide range of services, from basic to the most demanding and dangerous Level A applications, including:
Liquid vacuum truck operations (sludge removal)

Dry vacuum truck operations (solids removal)

Facility closures and decontamination (decommissioning of existing and abandoned structures)

Chemical cleaning

High-pressure water cleaning (hydroblasting)

Sand-blast cleaning

Sewer jetting and cleaning

Bio-degradable/environmentally friendly cleaning

Line locating

Waste hauling

Tank cleaning

Hazardous Substances Abatement and Disposal

Tank and Vessel Cleaning and De-sludging

Tank Decommissioning and Demolition

Oil Water Separator and Catch Basin Maintenance

Sump, Pit, and Trench Clean-out

Utility Manhole, Vault, and Drain Cleaning

Hydroblasting (≤40,000 psi)

Chemical Cleaning

Camera Inspection

Vacuum Sweeping
SUPER-FAST 60-Minute Response Time
We understand the urgent and critical nature of your call for service. Our Emergency Rapid Response Teams are ready, willing and able to respond quickly to remedy your emergency situation. Our Emergency Response Vehicles are pre-loaded with 90% of the equipment needed for any emergency situation. The final 10% will be added for your particular needs. This advance preparation enables us to deploy a Team within 60 minutes or less from our facility. Based upon our clients' feedback, this is far better than the typical response time from most of our competitors. Their response is usually measured in multiple hours, and sometimes days or even weeks. Our Team is always ready to deploy, 24 hours a day, 365 days per year, rain or shine, including holidays. We do not rely on automated answering systems for our main phone line (630) 458-1910. Instead, we guarantee that a live person will answer your call, regardless of whether it is a weekend, holiday, or any other day.
View all Environmental Services HazChem provides our valued customers.

Compliant. Responsive. Safe.
 Call 630-458-1910 for immediate assistance. Open 24/7/365
For a FREE, no-obligation quote, click the button below