EMERGENCY RESPONSE SERVICES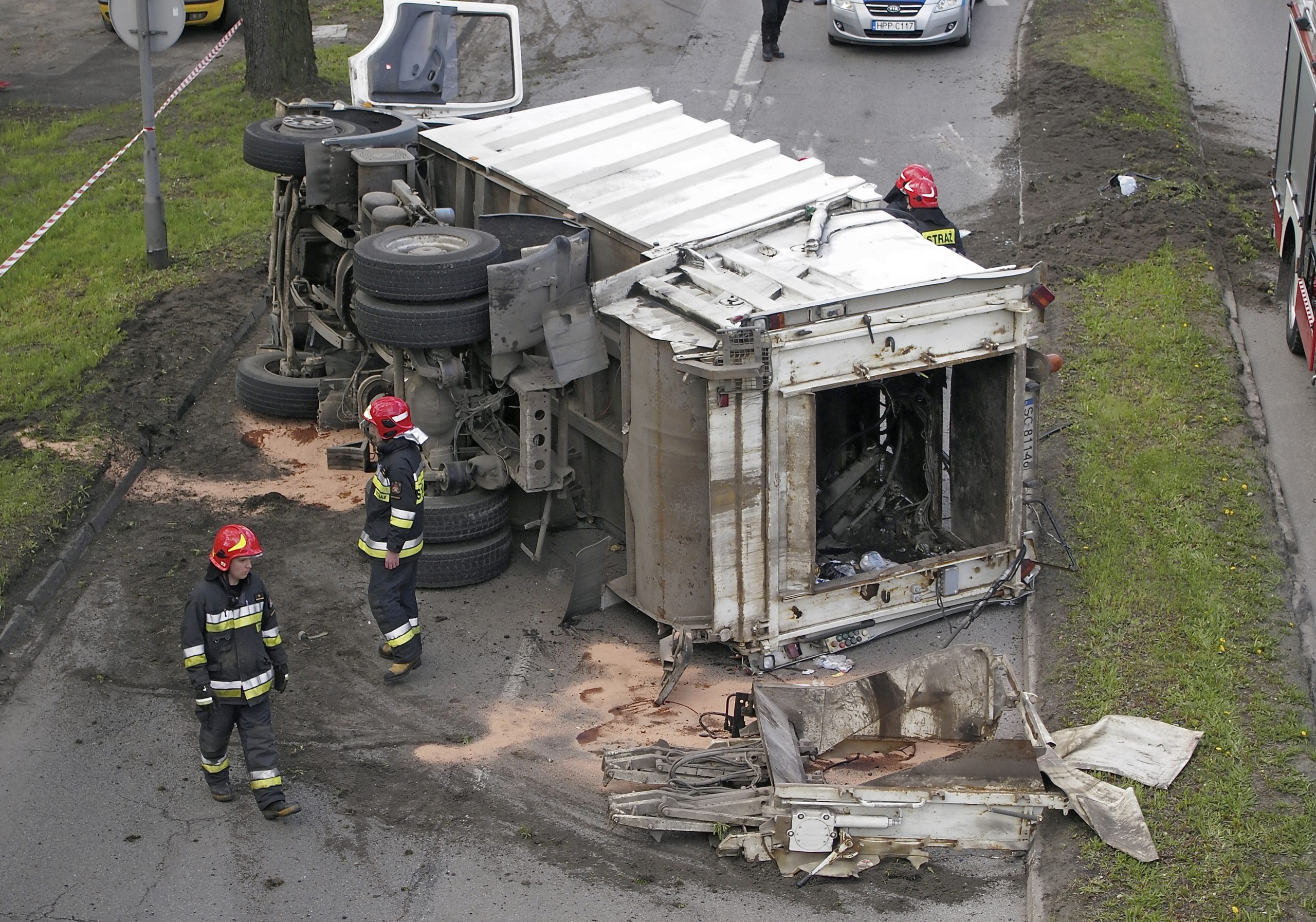 With over 30 years of expertise in the field, HazChem specializes in providing comprehensive emergency spill response services for a wide range of incidents. Our team is highly trained and experienced in handling over-the-road accidents, bio hazard clean up, oil and chemical spills, HAZMAT cleanups, mercury spills, tank overflows, pipeline leaks, emergency clean up services, and other hazardous waste emergencies. We operate round the clock, 365 days a year, ensuring rapid deployment of our certified Emergency Rapid Response Teams to contain the situation promptly and initiate immediate remediation measures.
At HazChem, our project managers possess extensive experience collaborating with federal, state, and local oversight agencies across various environments and industries. This allows us to ensure full compliance with all regulatory requirements throughout the emergency response process. Our dedicated professionals are well-versed in completing the necessary closure documentation to obtain the determination of "No Further Action," effectively bringing the cleanup event to a close.
SUPER-FAST 60-Minute Response Time
We understand the urgent and critical nature of your call for service. Our Emergency Rapid Response Teams are ready, willing and able to respond quickly to remedy your emergency spill situation. Our Emergency Response Vehicles are pre-loaded with 90% of the equipment needed for any emergency situation. The final 10% will be added for your particular needs. This advance preparation enables us to deploy a Team within 60 minutes or less from our facility. Based upon our clients' feedback, this is far better than the typical response time from most of our competitors. Their response is usually measured in multiple hours, and sometimes days or even weeks. Our Team is always ready to deploy, 24 hours a day, 365 days per year, rain or shine, including holidays. We do not rely on automated answering systems for our main phone line (630) 458-1910. Instead, we guarantee that a live person will answer your call, regardless of whether it is a weekend, holiday, or any other day.
We are always open: Call (630) 458-1910 for IMMEDIATE ASSISTANCE
OUR EMERGENCY RESPONSE CLEAN UP PROCESS
When contacted, our Emergency Response Teams swiftly conduct a comprehensive assessment of the situation. Whether we are performing a chemical spill cleanup resulting from a highway accident, HAZMAT cleanup, managing in-plant releases, or other emergency clean up services, HazChem always prioritizes safety, compliance, and efficiency. Our emergency response process typically follows these steps: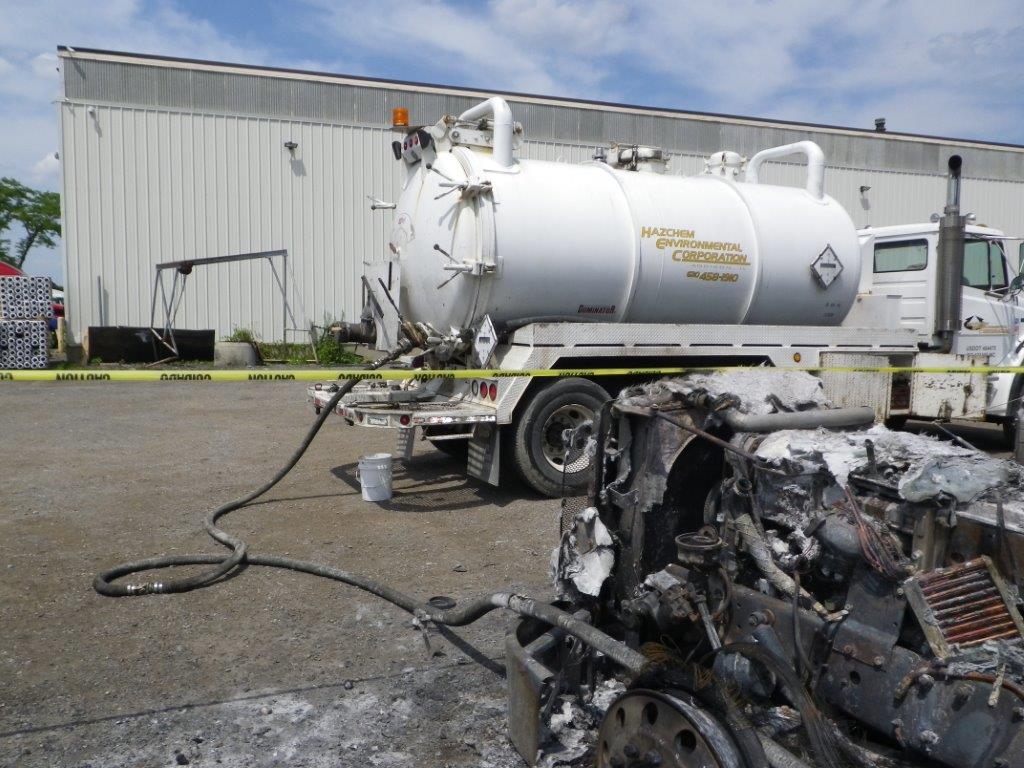 Identification of the spilled or leaking substance

Assess immediate threats to the environment and human health

Containment of contamination or spill

Perform h

azardous materials spill cleanup

Safe transport of container(s) to a secure area

Proper disposal of hazardous and non-hazardous waste

Separation of damaged and/or contaminated items

Thorough documentation throughout the project, including before, during, and after photos

Submission of comprehensive documentation, inclusive of detailed reports and photos, which meticulously document all phases of the emergency response services we provided.
BENEFITS OF PARTNERING WITH A SPILL CLEANUP COMPANY
Hazardous materials are constantly being transported along highways, railways, and waterways in the United States. Given the inevitability of spills, it is crucial for companies handling such materials to have a well-prepared prevention and HAZMAT emergency spill response plan in place. Managing spills is not a task that can be undertaken independently. Instead, it requires a knowledgeable partner who is OSHA-trained in current local, state, and federal guidelines for emergency HAZMAT cleanup services and committed to following established protocols consistently.
At HazChem, our Emergency Rapid Response Team crew members undergo extensive training before participating in any hazardous spills or HAZMAT cleanups. They continuously engage in training activities to stay up-to-date with evolving regulations and best practices. Our on-site spill managers and technicians are HAZWOPER, DOT, and OSHA certified, ensuring their competence in handling your emergency response spills. Furthermore, our quarterly training exercises rigorously prepare all HazChem workers to effectively manage emergency situations.
OUR EMERGENCY RESPONSE SERVICES INCLUDE:
Download Emergency Services PDF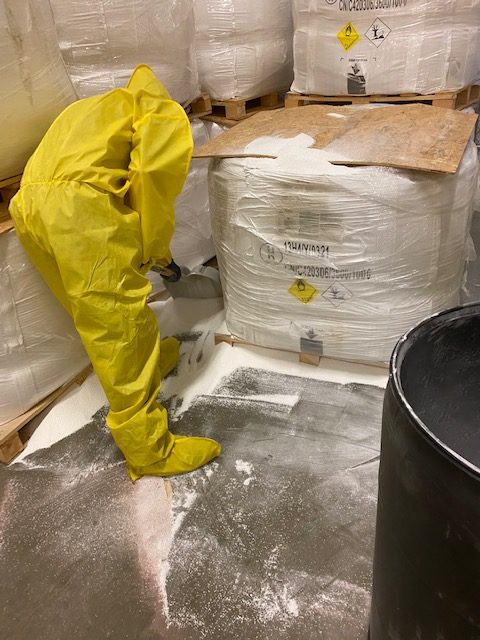 Roadside spills

HAZMAT cleanup

Over-the-road incidents

Punctured lines

Tank overflows

Leaking drums

Trauma and accident scenes

Saddle tank spills

Pipeline ruptures

Biological and infectious materials

Tanker truck rollovers

Emergency pump-outs                                                                                                                                                                            

Homeland Security, DEA, and Customs and Border Protection incidents

Hurricane, earthquake, and storm damage                 
Emergency lab packs
Releases, fires, and spills in warehouses and distribution centers

Excavation of buried drums and cylinders

Industrial fire cleanup

Reactive Stabilization                                                                       

Railcar-related incidents

Jet Fuel Spills

Spillage into lakes, rivers, ponds

And many other types of spills
SAFETY
At HazChem, we prioritize your safety above all else. We possess extensive knowledge of proper spill cleanup procedures, ensuring the protection of citizens, facilities, and equipment. Our commitment to the environment drives us to clean up spills in the most environmentally friendly manner possible.
COMPLIANCE
Cleaning up spills involves adhering to numerous complex rules, regulations, and laws. With our 30 years of experience, HazChem possesses the expertise to keep you fully compliant with local, state, and federal regulators.
READINESS
HazChem maintains Emergency Rapid Response Team crews that are prepared to address emergency spill response and cleanup services at any time, day or night, 365 days a year, including holidays and weekends. Our Rapid Response Vehicles stand ready and are equipped with 90% of the equipment they will need for any job. The final 10% will be packed depending upon your specific needs. Our team will deploy from our facility within 60 minutes or less from when we receive your call.  We treat your emergency as our top priority and promptly resolve the issue.
Equipped with state-of-the-art Emergency Response Trucks, Vacuum Trucks, and highly skilled crews, HazChem possesses the necessary resources and technological knowledge to respond to emergencies safely and effectively, ensuring immediate containment and stabilization. Moreover, our fully equipped safety trailers are entirely portable, enabling our crew members to operate in the most hazardous conditions.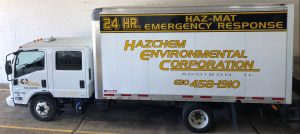 LEVEL A HAZMAT EMERGENCY SPILL RESPONSE TRAILERS
Our fully equipped HAZMAT emergency response spill trailers are designed for transport to remote locations, allowing our crew members to work efficiently even in highly dangerous conditions. HAZMAT cleanups and management of biological hazards are among our specialties. We are always prepared to handle hazardous waste spills, contain biohazardous materials and provide emergency cleanup services quickly and efficiently.
View other HazChem Services.

Compliant. Responsive. Safe.
 Call 630-458-1910 for immediate assistance. Open 24/7/365
For a FREE, no-obligation quote, click the button below