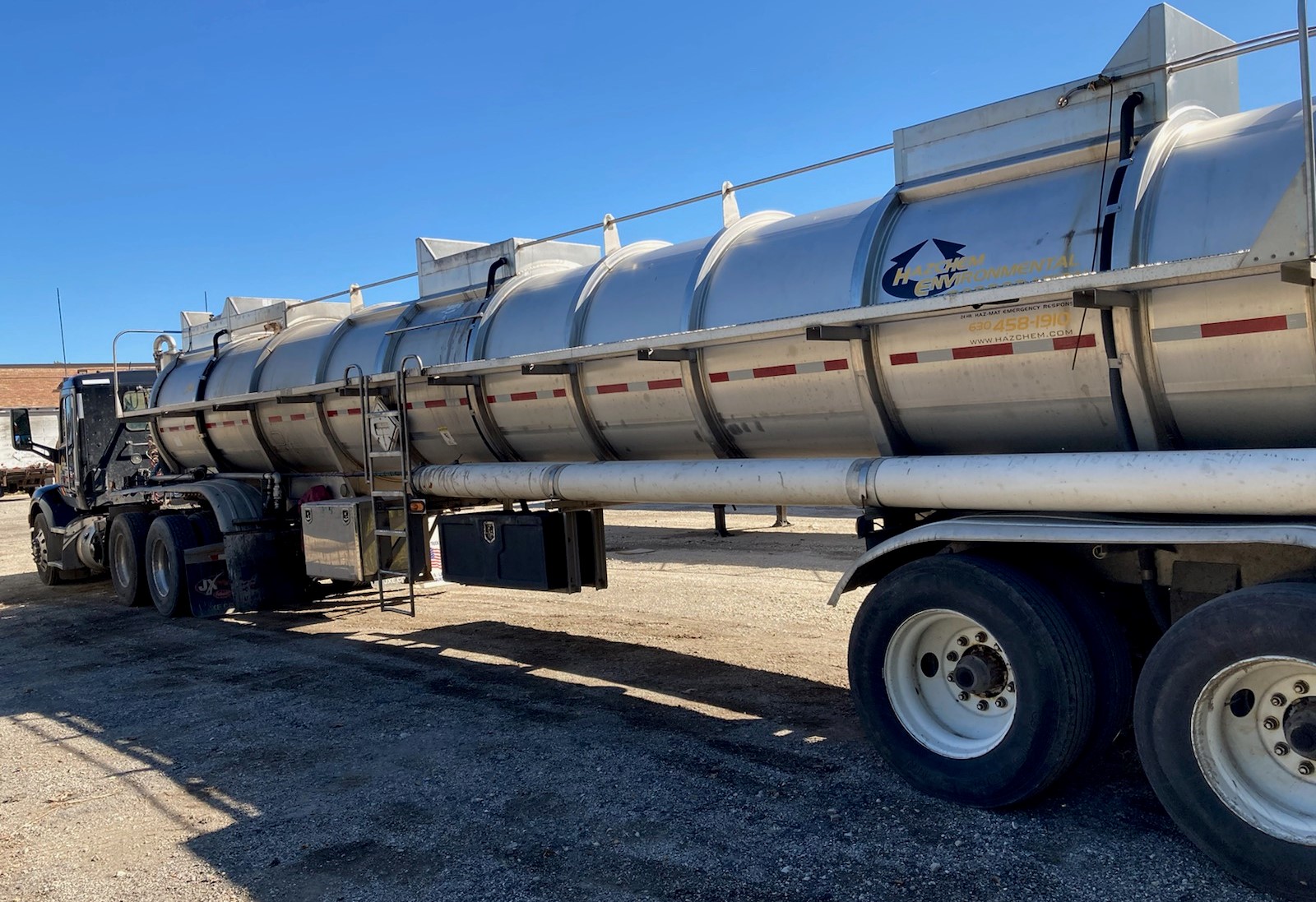 Industrial Vacuum Trucks
HazChem Environmental owns and operates a large fleet of state-of-the-art vacuum trucks. Our vacuum truck services will pump out sludge, liquid and solids at your facilities. We will also ensure proper disposal of your non-hazardous and hazardous waste through our industry leading vac truck service. Our vacuum truck services include pickup of high solids, liquids, oily water or sludge from virtually anywhere. This includes clarifiers, floor drains, oil/water separators, pits, sumps, trenches, and underground storage tanks.
 Our service professionals handling our vacuum trucks are trained through a national standardized program. They are all DOT-certified and have CDL licenses.  Almost every one of our service professionals have worked for HazChem for over 10 years. We offer regularly scheduled service that you can bank on, as well as unscheduled and emergency service for unexpected events.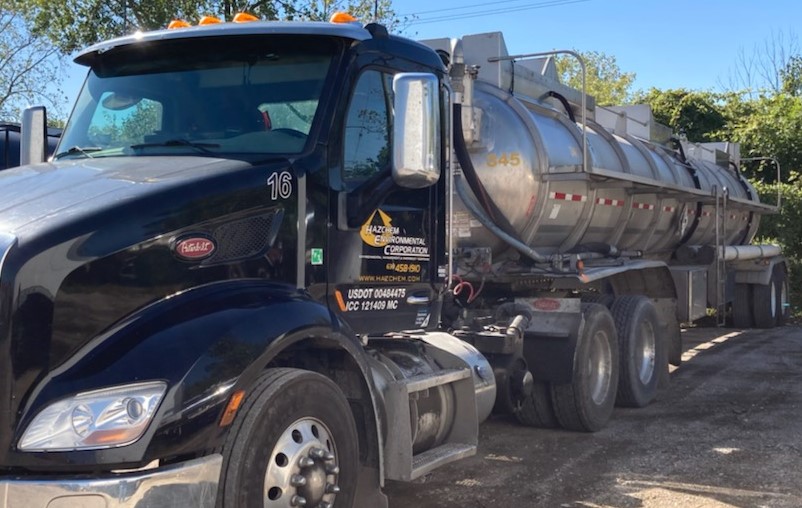 At Every Pumping Truck Service Call We Will:
 Safely remove all liquid, sludge, and solids
Thoroughly clean any trenches leading to separators, pits, drains, sumps and other locations
Dispose of your waste in compliance with all local, state, and federal regulations
 HazChem inspects and services your separators. At every service call, we pull and retain a sample to help protect you from compliance problems. Additionally, your waste will always be disposed of in compliance with all local, state, and federal regulations.
Our Vacuum Truck Services:
Catch & Drainage Basins
Drain, Sump, Pit and Trench Cleanout
Non-Hazardous Liquids and Sludge Disposal
Oil Water Separator Service
Overflowing Storm Systems
Sewer Water Drains
Spill Cleanup
Sand Trap / Grit Trap Service
Tank Pumping (Holding Tanks, Underground Waste Tanks)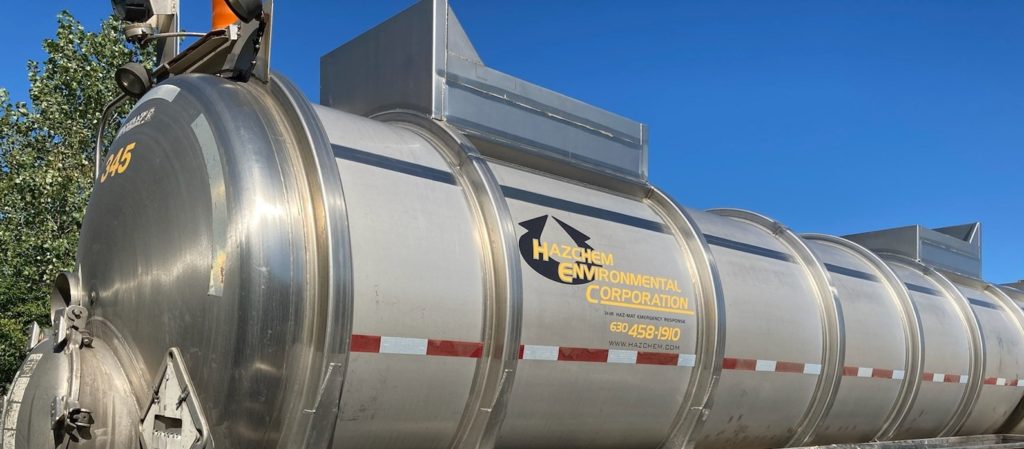 Oil Water Separator
HazChem's fleet of specialized, high-capacity vacuum trucks feature 5,500 gallon tanks and industrial grade vacuum pumps. We also offer small vacuum trucks with 3,000 gallon capacity for use in urban areas. Our professionals completely empty your separators, and if you desire, we'll pressure wash them.
 Sumpkleen
 HazChem's SumpKleen service offering includes pressure washing and sanitizing of your machine tool sump and the removal of all associated waste. In addition to our standard vacuum truck services, HazChem will scrape and clean out trenches as part of our trenching service. Part of our ability at being the best at chemical waste disposal, is having our top of the line Wastewater Vacuum Truck Services.
Contact HazChem to see how our waste vacuum truck services can best serve you and your business. 
Visit our Truck Purchasing Fundamentals Page if you are expanding your own fleet.
SUPER-FAST 60-Minute Response Time
We understand the urgent and critical nature of your call for service. Our Emergency Rapid Response Teams are ready, willing and able to respond quickly to remedy your emergency situation. Our Emergency Response Vehicles are pre-loaded with 90% of the equipment needed for any emergency situation. The final 10% will be added for your particular needs. This advance preparation enables us to deploy a Team within 60 minutes or less from our facility. Based upon our clients' feedback, this is far better than the typical response time from most of our competitors. Their response is usually measured in multiple hours, and sometimes days or even weeks. Our Team is always ready to deploy, 24 hours a day, 365 days per year, rain or shine, including holidays. We do not rely on automated answering systems for our main phone line (630) 458-1910. Instead, we guarantee that a live person will answer your call, regardless of whether it is a weekend, holiday, or any other day.
We are always open: Call (630) 458-1910 for IMMEDIATE ASSISTANCE.
View all Environmental Services HazChem provides our valued customers.

Compliant. Responsive. Safe.
 Call 630-458-1910 for immediate assistance. Open 24/7/365
For a FREE, no-obligation quote, click the button below