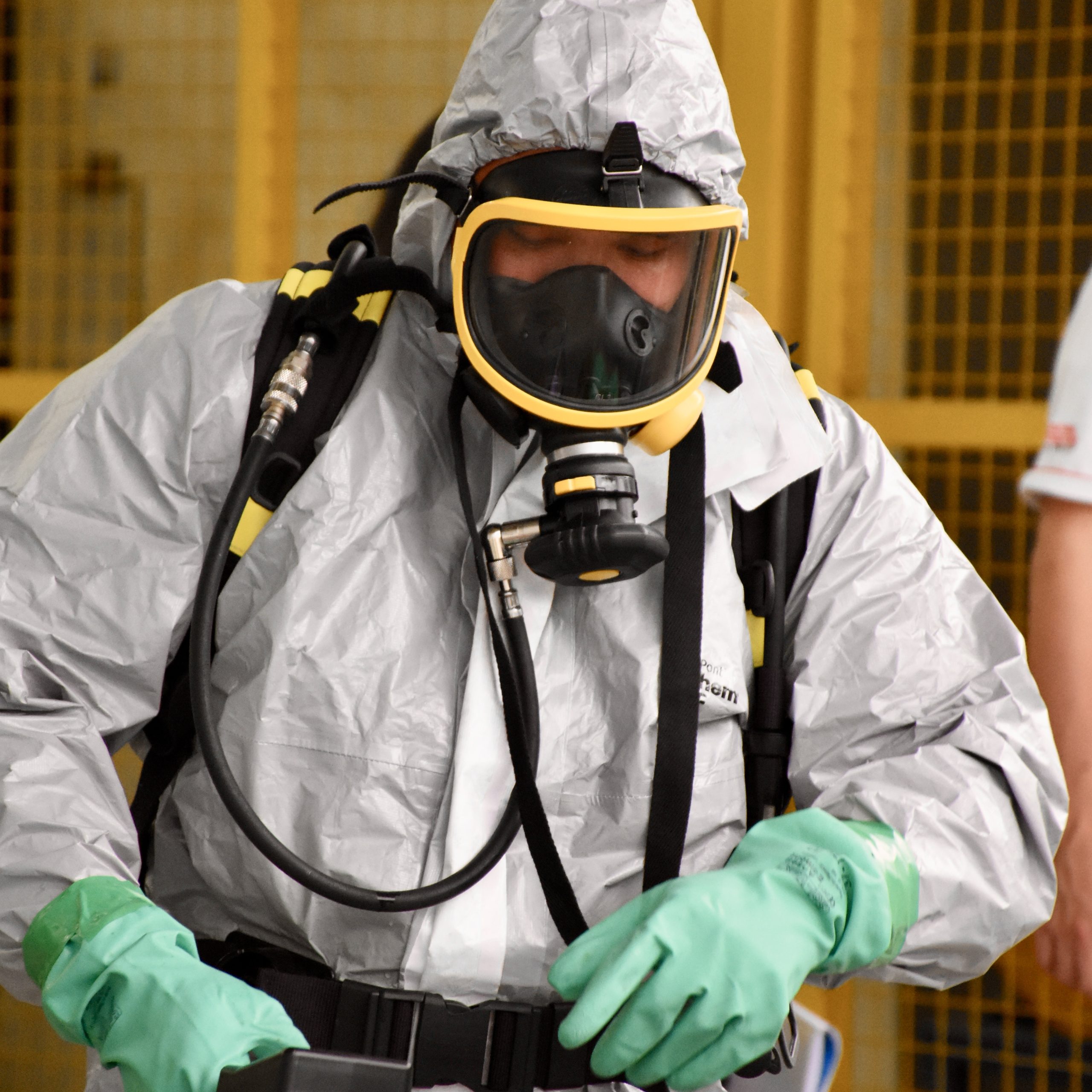 HazChem Environmental is a reputable and trusted company specializing in chemical waste disposal. With over 30 years of experience in the hazardous chemical waste industry, we have built a strong reputation for providing comprehensive and environmentally-responsible services as one of the premier chemical waste disposal companies in the country. Our chemical spill and chemical waste management services cater to laboratories, private businesses, and institutions. They all require the collection, packaging, processing, handling, transportation, treatment, and final chemical disposal of regulated chemicals as part of their chemical waste management program.
HAZMAT – Trained Staff
At HazChem, we are ready to deploy a team of HAZMAT professionals who are experts in chemical disposal at any time. They follow stringent procedures for the collection, sampling, identification, transportation, and disposal of hazardous and non-hazardous chemical waste. Our staff members are certified in HM-181 HAZMAT, OSHA protocols, HAZWOPER, and are DOT/ASME certified for handling hazardous materials.
60-Minute Response Time
Chemical waste is regulated and governed by the EPA. In the event of a chemical spill, our experienced team is equipped to provide immediate response and containment services. Our Emergency Rapid Response Team will deploy from our facility with 60 minutes or less of your call. We handle all aspects of chemical cleanup, repacking, chemical removal, chemical decontamination, restoration, transportation, treatment, and chemical disposal. This includes all types of chemical waste, as well as RCRA hazardous waste. Additionally, we offer short- and long-term site remediation services and maintenance of containment facilities.
We understand the urgent and critical nature of your call for service. Our Emergency Rapid Response Teams are ready, willing and able to respond quickly to remedy your emergency situation. Our Emergency Response Vehicles are pre-loaded with 90% of the equipment needed for any emergency situation. The final 10% will be added for your particular needs. This advance preparation enables us to deploy a Team within 60 minutes or less from our facility. Based upon our clients' feedback, this is far better than the typical response time from most of our competitors. Their response is usually measured in multiple hours, and sometimes days or even weeks. Our Team is always ready to deploy, 24 hours a day, 365 days per year, rain or shine, including holidays. We do not rely on automated answering systems for our main phone line (630) 458-1910. Instead, we guarantee that a live person will answer your call, regardless of whether it is a weekend, holiday, or any other day.
We are always open: Call (630) 458-1910 for IMMEDIATE ASSISTANCE.
Commitment to Safety and Compliance
HazChem Environmental prioritizes the safety of employees and your workplace. We strictly adhere to all local and federal regulations and guidelines to ensure full compliance. Our commitment extends to protecting the environment, as chemical waste poses significant dangers. As a company, we embrace environmental stewardship by implementing responsible chemical waste disposal and treatment practices. We strive to minimize the impact of chemicals on landfills and water sources, as their mis-disposal can harm both the environment and human health.
Navigating Complex Chemical Waste Regulations
HazChem Environmental helps clients navigate complex chemical waste disposal regulations. In addition to providing cost-effective chemical cleaning and disposal services, we offer expertise across your entire chemical material inventory. We ensure compliance with all aspects of your chemical waste management program. Our services include identification, segregation, storage, transport, and hazardous chemical disposal. We provide Safety Data Sheets (SDS and MSDS), online compliance training, guidance on storage and labeling, and DOT-approved chemical waste containers. Our chemical waste removal services also provide manifests, labels, and shipping documents, and offer a flexible program with no minimum shipments, no monthly fees, and no annual commitments. Our qualified and responsive team is available to support you throughout the entire chemical spill and/or chemical waste disposal process.
Chemical Spill Cleanup
HazChem Environmental is well-equipped to handle chemical spill cleanup, ranging from small chemical spills to large-scale facility chemical spills and chemical decontamination. Our personnel, equipment, and technical proficiency enable us to manage chemical spillage of all types and sizes. Our chemical spill cleanup services include flammables, corrosives, oxidizers, toxics, poisons, liquids, solids, semi-solids, gases, solvents, acids, bases, reactive materials, and metals such as mercury, lead, and cadmium.
Chemical Waste Types We Dispose Of
Our company handles various types of chemicals for chemical waste disposal. However, we do not provide chemical cleaning services for household waste. Our expertise extends to the disposal of pharmaceutical waste, medical waste, flammable liquid waste, paint waste, pesticides and herbicides, lab pack waste, hazardous waste, acid and caustic soda, glycol, ammonia, and non-hazardous waste, to name a few.
Partnering for Reliable Environmental Service
At HazChem Environmental, we believe in a partnership-based approach to chemical waste cleaning. We leverage our expertise, knowledge, and compliance to assist you with every aspect of storage, collection, transport, and disposal. From chemical waste identification and categorization to labeling, profiling, packing, shipping, and manifesting, we ensure your risks are mitigated. We prioritize transparency in pricing and service needs, fostering long-term customer partnerships without the need for lock-in contracts. Our drivers and account managers provide dedicated support, and we take pride in building strong relationships with our customers. For a chemical waste removal company near you, count on HazChem Environmental.
Additional Waste Disposal Solutions
In addition to chemical waste disposal, we also provide waste solutions for pharmaceutical waste and medical waste, paint waste, lab pack waste, expired / off-spec product waste, hazardous waste, non-hazardous waste, and waste transportation services.
View all Environmental Services HazChem provides our valued customers.

Compliant. Responsive. Safe.
 Call 630-458-1910 for immediate assistance. Open 24/7/365
For a FREE, no-obligation quote, click the button below