HAZWOPER TRAINING AND HAZWOPER CERTIFICATION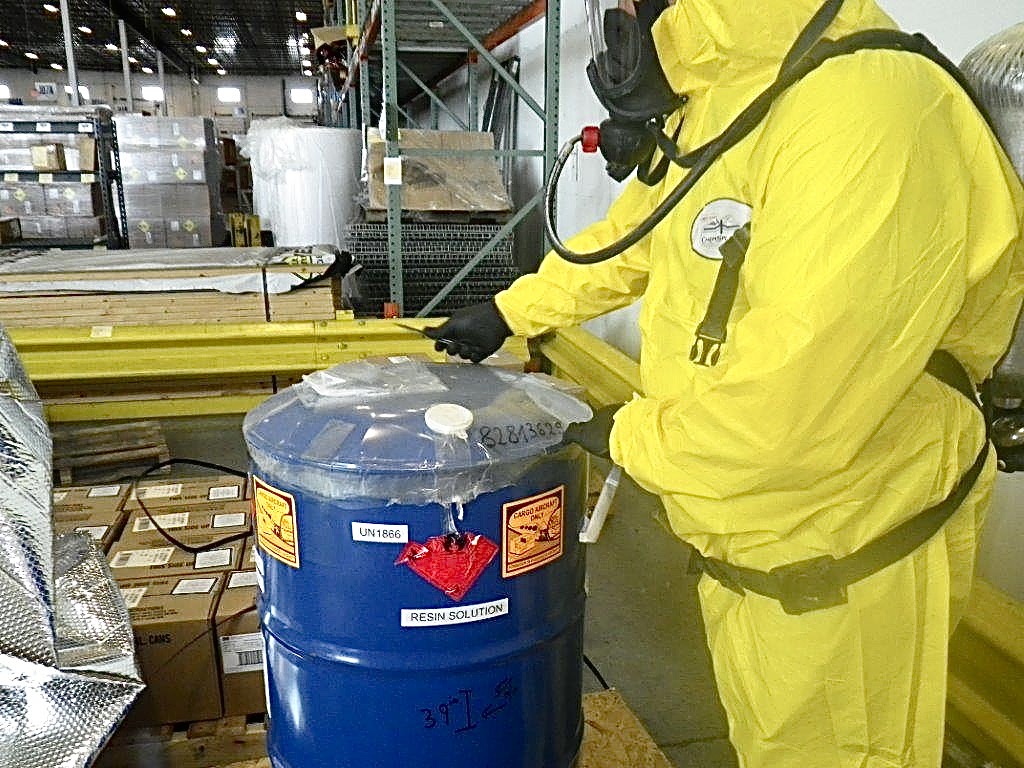 HazChem Environmental Corporation, a specialized hazardous waste pickup, transportation, and disposal company, mandates that all its technicians successfully complete an Occupational Safety and Health Administration (OSHA)-certified HAZWOPER training course. Our entire team possesses and maintains full HAZWOPER certification via the HAZWOPER 40 training. Furthermore, our internal Compliance Department ensures that HazChem Environmental remains fully compliant with any evolving OSHA regulations and guidelines.
HAZWOPER Meaning
What does HAZWOPER stand for?
HAZWOPER stands for "Hazardous Waste Operations and Emergency Response." According to OSHA, HAZWOPER education is mandatory for workers involved in cleanup, emergency response, or corrective actions related to the uncontrolled release of hazardous substances.
HAZWOPER Certification Training at HazChem
With our extensive expertise in hazardous waste pickup, transportation, and disposal, coupled with our comprehensive knowledge of OSHA guidelines and rules, HazChem Environmental is the ideal company to provide OSHA-certified HAZWOPER courses to employees at your organization.
Our HAZWOPER training program fulfills all Federal OSHA requirements for HAZWOPER certification. In addition to other essential skills, participants will learn how to perform post-emergency response activities, conduct cleanups/remediation at industrial sites, corrective action sites, and voluntary cleanups involving hazardous materials.
The course covers hazard recognition, exposure limits, and risk evaluation for chemical and general site safety concerns. Attendees will receive training on the technology and methods used to monitor and detect hazardous materials, as well as learn how to contain chemical spills, establish decontamination processes, and select and utilize worker protective equipment.
How long is the Initial HAZWOPER Training Course?
The initial HAZWOPER training course required for compliance with OSHA HAZWOPER 40 regulations spans 40 hours. According to OSHA guidelines, general site workers (such as equipment operators, general laborers, and supervisory personnel) engaged in hazardous substance removal or activities that expose workers to hazardous substances and health hazards must receive a minimum of 40 hours of off-site instruction, along with at least three days of supervised field experience under the guidance of an experienced supervisor.
Upon completion of the course, your OSHA 40-hour HAZWOPER certification remains valid for 12 months.
HAZWOPER Training Refresher Course
To maintain compliance, all workers who handle hazardous materials must undergo an 8-hour HAZWOPER refresher course within 12 months of their previous HAZWOPER training. The 8-hour refresher course must be repeated annually to retain your HAZWOPER certification.
HazChem also offers guidance on these renewal courses.
For more information regarding HAZWOPER courses, or any other environmental safety training courses, please contact HazChem at sales@hazchem.com or (630)-458-1910.
View all Environmental Services HazChem provides our valued customers.

Compliant. Responsive. Safe.
 Call 630-458-1910 for immediate assistance. Open 24/7/365
For a FREE, no-obligation quote, click the button below