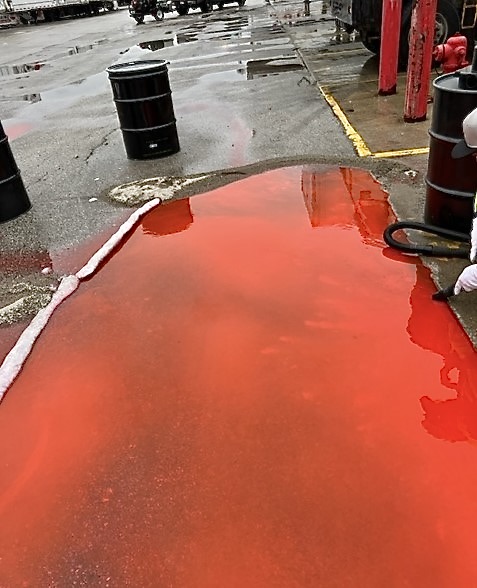 Emergency Spill Response Services:
Handling Hazardous Situations Safely
Accidental spills are an unforeseen risk that can occur in nearly any industry, posing potential dangers if not managed effectively. At HazChem, we understand the critical importance of emergency spill response and spill clean up to ensure safety and prevent environmental harm. Our team specializes in providing comprehensive emergency spill response solutions tailored to your specific needs, with fully trained and certified personnel and expedited response times. We can assist with spill clean up, HAZMAT cleanup, biohazard cleanup and every other type of spill.
EMERGENCY RESPONSE TIMES ARE CRITICAL TO A HAZMAT SPILL
We understand the urgent and critical nature of your call for service, especially for a HAZMAT spill.. Our Emergency Rapid Response Vehicles are pre-loaded with 90% of the equipment needed for any emergency situation. The final 10% will be added for your particular needs. This advance preparation enables us to deploy our Emergency Rapid Response Team within 60 minutes or less from our facility. Our Team is always ready to deploy, 24 hours a day, 365 days per year, rain or shine, including holidays. We do not rely on automated answering systems for our main phone line (630) 458-1910. Instead, we guarantee that a live person will answer your call, regardless of whether it is a weekend, holiday, or any other day.
Our Expertise Includes:
Immediate Emergency Response: Swift action during spills is essential. Our skilled Emergency Rapid Response Team is available around the clock to assess the situation and devise an effective plan. Expedited Services are available day or night, even on holidays.
Expert Guidance for Various Scenarios: From product transfer mishaps to chemical spills, truck or roadside spills, and even natural disasters, our experts offer guidelines for efficient cleanup.
Comprehensive Spill Clean Up Services: Our services encompass spill containment, product recovery, and proper waste disposal. We have a wide range of equipment, including vacuum trucks and excavation tools, to ensure the most efficient remedy possible.
Regulatory Compliance: We act as liaisons with environmental agencies (OSHA, EPA, DOT, etc), ensuring accurate reporting and compliance with regulations associated with spills.
Site Restoration: Our experienced field personnel can orchestrate both short-term cleanup and long-term restoration efforts, tailored to the severity of the spill. We offer Environmental Site Assessments.
Preparing for a Potential Hazmat Spill
It's crucial to be well-prepared for potential hazardous spills. Understanding the chemicals on-site, their toxicity, and proper handling procedures is vital. Our HazChem technicians are equipped with the necessary training and equipment to respond promptly to emergencies. With a rapid response time and 24/7 availability, we ensure your readiness for any situation.
Knowing the Spill Hazards: Familiarizing yourself with the chemicals present and their potential consequences in case of a spill is paramount. Your company should establish a spill handling procedure and communicate it to all facility users. Consider factors like flammability, reactivity, corrosion, and toxicity when assessing hazardous risks.
Spill Prevention and Preparedness: Proactive measures can prevent spills. Securely store chemicals on stable shelves and organize them based on toxicity levels. During transportation, use carts for safe handling. Regularly inspect equipment and maintain a clutter-free environment to reduce spill risks.
Taking Control of Spills: Develop a clear set of procedures to follow in the event of a spill. This should include steps for spill response, employee responsibilities, proper equipment usage, and communication protocols. Make these guidelines accessible to all staff members and handlers of chemicals. Have HazChem contact info in your procedure manual and posted in key places within your facility in order to save precious time in the case of an emergency.
Incidental vs. Emergency Spills: Distinguishing between incidental and emergency spills is crucial. Incidental spills are those with limited hazards and exposure potential, while emergency spills involve higher risks. Let us help you decide the next action for your spill clean up. Adhering to OSHA standards and regulations, our team ensures appropriate response for different types of spills. Understanding the distinction between incidental spills and emergency spills plays a crucial role in guiding managerial responses.
Releases can be categorized into two main types: incidental spills and emergency spills. However, the determination of which type of release has taken place significantly impacts the relevant standards set by the Occupational Safety and Health Administration (OSHA), as well as the mandated level of training for employees. OSHA emphasizes that the properties of hazardous substances, combined with the specific circumstances of the release, determine the extent of employee involvement, and dictate the appropriate emergency procedures to be followed.
What constitutes an incidental spill? Incidental spills refer to spills that do not result in emergency situations, and they are not subject to the emergency response provisions outlined in the Hazardous Waste Operations and Emergency Response standard (29 CFR 1910.120). However, it's important to note that incidental chemical spills are covered by the Hazard Communication Standard (29 CFR 1910.1200).
The definition of an incidental spill can be summarized as follows:
Involves hazardous substances
Limited in quantity
Poses limited exposure potential
Limited toxicity
Does not pose a significant safety threat to employees or the immediate surroundings
Presents no significant health hazard to employees or the immediate surroundings
Involves minimal effects during the cleanup process
Has no potential to escalate into an emergency within a short timeframe
Employees who possess familiarity and training in handling the hazards associated with the chemicals they work with may safely manage the cleanup of an incidental spill.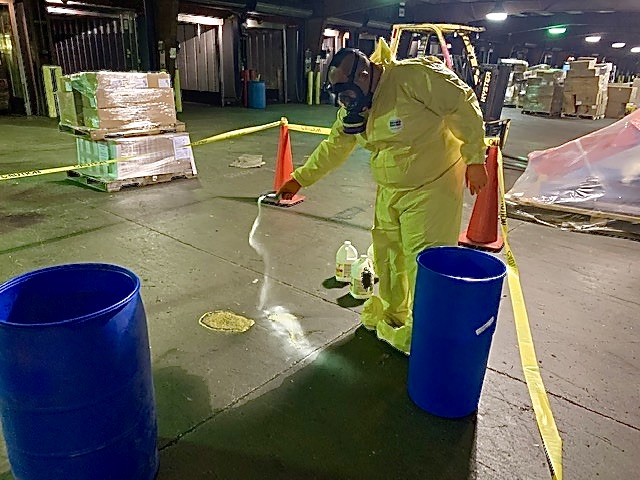 EMERGENCY SPILLS:
On the other hand, emergency spills fall under the scope of the Hazardous Waste Operations and Emergency Response (HAZWOPER) standard. When applicable, all employees engaged in responding to emergency spills must undergo training as per the guidelines set in 29 CFR 1910.120. At the very least, it is imperative to ensure that employees are adequately prepared to respond, or alternatively, engage the services of emergency spill response contractors for both minor and major spills. Additionally, providing an emergency action plan in line with the requirements of Emergency Action Plans (29 CFR 1910.38) is crucial.
To satisfy the definition of "emergency response" according to HAZWOPER, the release or situation must exhibit the following characteristics:
Results in high levels of exposure to toxic substances
Poses a threat to life or the risk of injury
Necessitates personnel evacuation
Creates an Immediately Dangerous To Life or Health (IDLH) condition
Presents a fire and explosion hazard that exceeds or has the potential to exceed 25% of the lower explosive limit (LEL)
Requires immediate attention due to potential danger
Results in an oxygen-deficient condition
HazChem Technicians are HAZWOPER Trained
The OSHA HAZWOPER standard outlines the training requirements for employees who respond to control spills that have the potential to escalate into emergency situations. HazChem Environmental mandates that all its technicians successfully complete an Occupational Safety and Health Administration (OSHA)-certified HAZWOPER training course. Our entire team possesses and maintains full HAZWOPER certification via the HAZWOPER 40 training.
Responding Effectively: In the event of a spill, contact our expert team at HazChem immediately. Regardless of the spill's size, your safety is our top priority. Notify us of the spill, and we'll provide the necessary equipment and guidance for proper cleanup. Never attempt to handle dangerous spills yourself; rely on our professional spill cleanup service to stay compliant and safe. Learn more from the EPA information regarding spills.
 Partner with HazChem: Our certified professionals are equipped to manage hazardous and nonhazardous spills efficiently. Contact us to learn more about our comprehensive spill cleanup services and request a free quote. Safeguard your environment with our expertise today! Our internal Compliance Department ensures that HazChem Environmental remains fully compliant with any evolving OSHA regulations and guidelines.
 Learn more about our Emergency Response Services. It's our specialty.

Compliant. Responsive. Safe.
 Call 630-458-1910 for immediate assistance. Open 24/7/365
For a FREE, no-obligation quote, click the button below