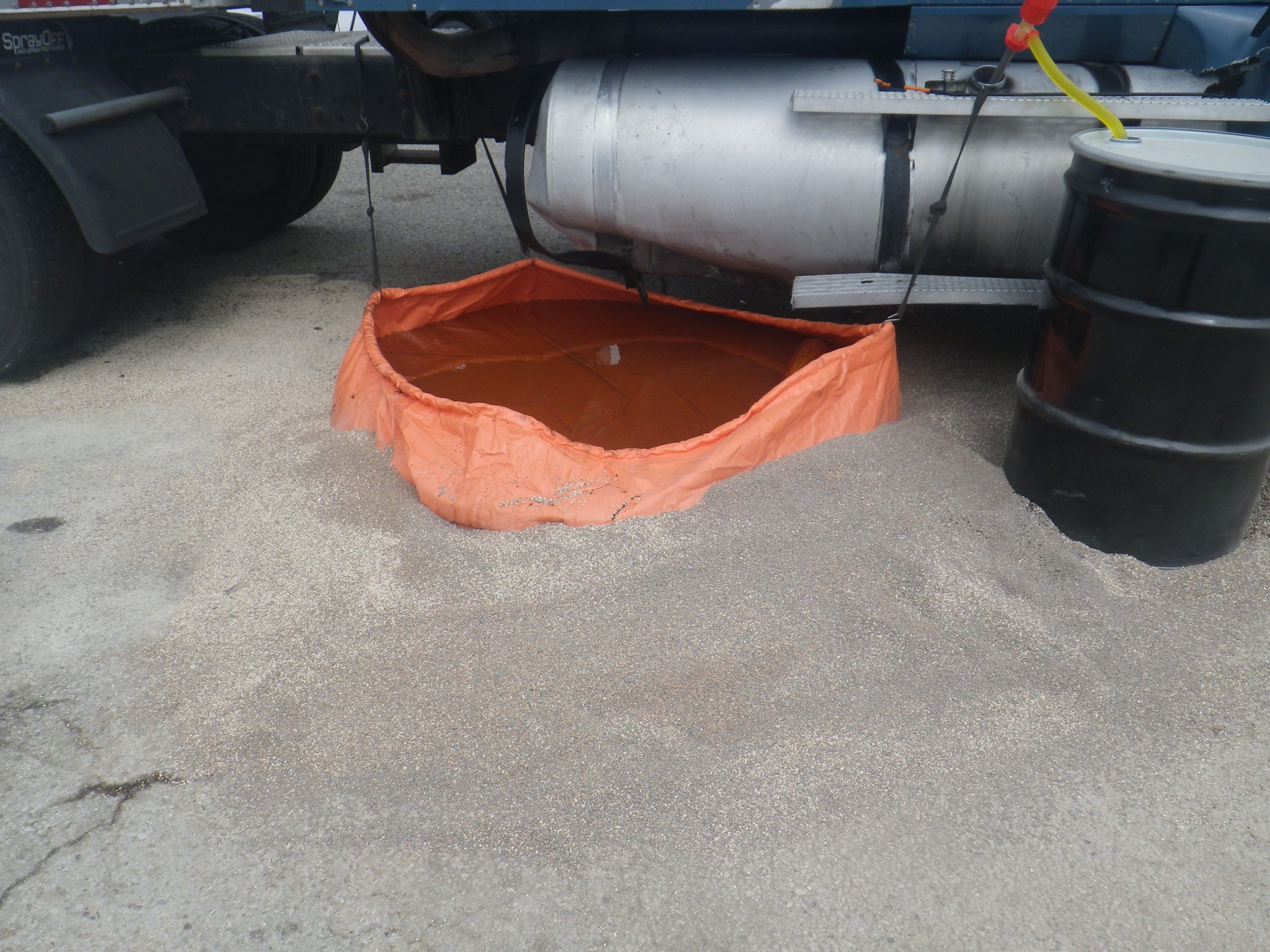 EMERGENCY FUEL SPILL CLEAN UP SERVICES
Fuel spills (gasoline spills and diesel spills) can cause tremendous damage to our land, air, water, wildlife and obviously people. Anyone that operates commercial vehicles, including companies and owner-operators, must have a detailed emergency fuel spill plan with exact steps that must be taken in order to avoid human injuries, unnecessary exposure to hazardous substances, and the overall well-being of all personnel. The plan must cover both gas spill clean up and diesel spill cleanup. Contact numbers for an emergency spill cleanup company such as HazChem Environmental, as well as phone numbers for relevant regulatory agencies, should be included. The plan should also detail the company personnel that are to be notified in case of a spill, and other information to ensure swift and safe response and reporting. Failure to do so will result in extreme fines from state and federal agencies, as well as potential legal issues.
Diesel and Gas Spill Clean Up
Fuel, whether it is gasoline or diesel, is used extensively within industrial settings, powering a variety of equipment such as forklifts, trucks, transport vehicles, and heavy machinery. Given its widespread usage, the risk of fuel spills remains substantial.
Industrial entities must adopt precautionary measures to safeguard against fuel spills, underscoring the necessity for a comprehensive plan in place to effectively manage and deploy gas spill cleanup and diesel spill cleanup efforts as quickly as possible. In the event of a fuel spill, adequately prepared industrial firms are equipped with a ready-to-deploy action fuel spill strategy. The established guidelines for conducting a fuel spill cleanup encompass the following steps:
Swiftly evacuate all personnel from the immediate vicinity of the fuel spill.

 Extinguish or disconnect any potential sources of ignition, and in cases where the spilled fuel is flammable, contact the fire department.

If feasible, establish barriers around the fuel spill area and communicate with individuals in the surrounding vicinity.

Identify and record the spilled substances, subsequently notifying the fuel spill cleanup response team at HazChem. We are equipped with a specialized cleanup crew available around the clock.

Oversee the fuel spill clean up operations, ensuring adherence to local, state, and federal regulations governing disposal. Document the fuel spill situation with before, during and after photos. HazChem will keep you informed of project progress and completion, and will ensure you stay in compliance with local, state and federal regulations.
HAZWOPER Certified
HazChem Environmental Corporation, a specialized hazardous waste cleanup, pickup, transportation, and disposal company, mandates that all its technicians successfully complete an Occupational Safety and Health Administration (OSHA)-certified HAZWOPER training course. Our entire team possesses and maintains full HAZWOPER certification via the HAZWOPER 40 training. Furthermore, our internal Compliance Department ensures that HazChem Environmental remains fully compliant with any evolving OSHA regulations and guidelines.
Underpinning these actions is the Hazardous Waste Operations and Emergency Response Standard, which delineates the prerequisites for fuel spill cleanup endeavors encompassing corrective actions, operations conducted at treatment, storage, and disposal facilities, as well as emergency response activities pertaining to hazardous materials.
The HazWOPER Standard, outlined in 29 CFR 1910.120, mandates specific provisions for gas spill or diesel spill readiness: (j)(1)(vii) Designated salvage drums or containers, along with sufficient quantities of appropriate absorbents, must be readily accessible and employed in areas susceptible to spills, leaks, or ruptures. (j)(1)(viii) Where substantial spills are foreseeable, a spill containment program, integral to the employer's safety and health regimen as stipulated in paragraph (b) of this section, must be implemented to effectively confine and isolate the entire volume of the hazardous substance during transfers.
As you cultivate an action plan for fuel spill cleanup, it is pivotal to secure the services of a professional spill cleanup company capable of rapid emergency response. HazChem possesses the requisite expertise for such exigencies, demonstrating the capacity to swiftly engage and rectify diverse scenarios within industrial sites. We are accessible around the clock, including holidays.
Emergency Response for Fuel Spill Cleanup
Our Emergency Rapid Response Teams are primed to provide immediate fuel spill cleanup services in response to emergency gas spills or diesel spills stemming from incidents like traffic accidents. This encompasses fuel releases resulting from vehicular collisions, breached fuel tanks, tanker turnovers, compromised fuel lines, overfills, and hydraulic line ruptures. We rigorously adhere to all regulatory directives for hazardous materials, prioritizing safety and minimizing potential legal liability. Our services also cover:
Cleanup after Tractor Trailer Accidents                                           

Cargo Area Remediation 

Mitigation of Hydraulic Line Leaks 

Saddle tank leaks

Site Rehabilitation 

Extraction of Contaminated Soil 

Removal of Surface Water Contamination 

Excavation of Impacted Soil 

Cleanup of Creek Contamination 

Strategies for Fuel Spill Confinement 

Techniques for Fuel Spill Management 

Secure Fuel Transfer

Remediation of Parking Lots
Fuel spills demand swift action. Our proficiency in emergency response recognizes the paramount importance of time. We respond promptly and with utmost care, leveraging our extensive experience to execute each situation accurately.
SUPER-FAST 60-Minute Response Time
We understand the urgent and critical nature of your call for service. Our Emergency Rapid Response Teams are ready, willing and able to respond quickly to remedy your emergency spill situation. Our Emergency Response Vehicles are pre-loaded with 90% of the equipment needed for any emergency situation. The final 10% will be added for your particular needs. This advance preparation enables us to deploy a Team within 60 minutes or less from our facility. Based upon our clients' feedback, this is far better than the typical response time from most of our competitors. Their response is usually measured in multiple hours, and sometimes days or even weeks. Our Team is always ready to deploy, 24 hours a day, 365 days per year, rain or shine, including holidays. We do not rely on automated answering systems for our main phone line (630) 458-1910. Instead, we guarantee that a live person will answer your call, regardless of whether it is a weekend, holiday, or any other day. 

Compliant. Responsive. Safe.
 Call 630-458-1910 for immediate assistance. Open 24/7/365
For a FREE, no-obligation quote, click the button below