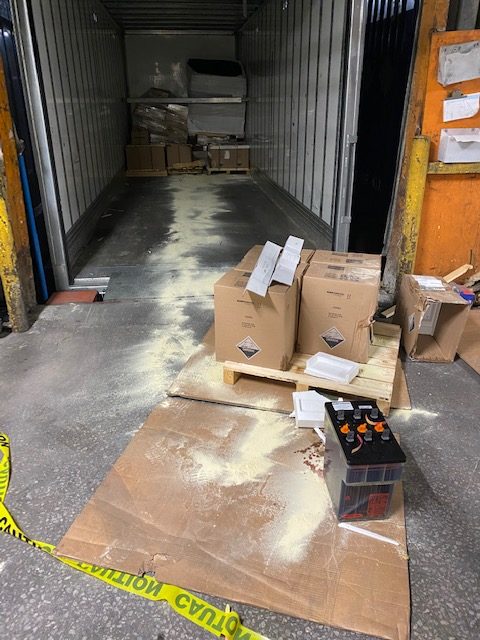 Loading Dock Spills
Few things have the power to halt operations like a spill. It's a safety risk, a code violation, and a massive inconvenience. Warehouse loading dock safety is imperative. We hope that you never need to call our number for a loading dock spill cleanup. But if you find yourself in the throes of an emergency spill situation, know that our team will be onsite and ready with a solution in record time. Responding to spills promptly and efficiently is crucial. Establishing a plan to restore safety and integrity to the property following a spill is essential. A professional spill cleanup company such as HazChem Environmental can provide a swift, safe and compliant solution for a forklift crash or any loading dock accidents.
Loading Dock Hazards
Loading docks have an increased potential for serious injury. Here are just a few of the hazards found on and around loading dock areas.
Slips, trips and falls

Forklifts overturning, resulting in injuries and product spills

Debris on floor

Employees being hit by forklifts and other powered trucks

Trailer creep

Unguarded machinery

Unsecured loads, leading to spills

Chemical splash

Material handling injuries (lifting)
Best Practices for Loading and Unloading to Prevent Spills or Injury
Installing weather-proofed dock seals and canopies to prevent water intrusion.

Utilizing telescopic conveyor belts for safer item transportation.

Implementing wheel guides, bumpers, and mirrors for safer truck maneuvering.

Holding onto driver's keys during loading/unloading processes.

Ensuring vehicle stability using automatic restraints.

Assessing dock structure for improved equipment and people flow.
Cleanliness: Crucial for Loading Dock Safety
Managing water, particularly on rainy days, can be challenging, but oil and grease spills can be prevented. Maintenance personnel and managers should prioritize cleanliness. Rapid cleanup of debris, wet, icy, and oily surfaces, as well as immediate repair of broken dock plates, is essential. Newly cleaned or repaired areas should be marked with signage. Regular maintenance of loading bays is imperative, emphasizing swift clean-up. The traction of dock surfaces, suitable for dry and wet conditions, is crucial. Equally important is enforcing a policy for appropriate footwear and headgear for workers undertaking hazardous tasks.
Regular cleaning of loading docks is indispensable for operational efficiency and safety. The hub of material distribution, loading docks impact company profitability. Loading dock cleaning should follow a regular schedule, considering the potential hazards present.
Inspections by OSHA and other health authorities emphasize loading dock service areas, making proper maintenance crucial. Failing inspections can lead to fines or closure. Regular cleaning, especially quarterly or semiannually for active warehouses, is essential.
When choosing a loading dock spill cleanup company, experience, capabilities, and equipment must be thoroughly assessed. HazChem Environmental offers EPA-compliant solutions, efficient water reclaim, and a trained team for safe and impactful spill cleanup.
HazChem offers Industrial Cleaning on site as a preventative measure, or a rapid emergency response for hazardous spills.
OSHA Loading Dock Requirements
OSHA loading dock requirements that can apply to loading dock cleaning and safety, are slips, trips and falls, which can be found in OSHA 29 CFR 1910.22 walking-working surfaces and the ANSI A1264.2-2006 provision for the slip resistance on walking/working surfaces. The OSHA regulation specific to loading dock safety is found in OSHA 29 CFR 1910.176 material handling. The majority of all regulations for the loading dock environment are actually directed to the operation and design of forklifts used on loading docks. Forklift safety regulations are referenced in the general industry standard, 29 CFR 1910.178 and construction standard 29 CFR 1926.600; 1926.602 and Part II, ANSI B56.1-1969 "American National Standard for Powered Industrial Trucks". To ensure a safe loading dock environment, safe operation of forklifts must be maintained. Forklift operators are required to be trained as operators to help in this effort. See Quick Tips #106: Forklift Operator Training for those requirements. OSHA regulations for machine guarding found in OSHA 29 CFR 1910.211 should also be applied. The OSHA Safety Checklist can also be very helpful.
EPA Regulations Regarding Loading Dock Cleaning & Maintenance
Regular loading dock cleaning can prevent violations of the Clean Water Act. When it rains or water flows out of yards or over pavement, the water and surface dirt flows directly into storm drains. Many people mistakenly believe this water gets cleaned before reaching waterways. The sewer system and the storm water conveyance systems (drains, inlets and catch basins) are separate; they are not connected. Sewer water gets treated, but everything that washes into the storm water conveyance system goes untreated directly into our rivers, creeks, bays and ocean. This causes beach closures and postings due to contamination. Releasing pollutants into the storm water collection system is a violation of the City Municipal Code.
When using a hose or power washing equipment for loading dock cleaning, or to keep dumpsters clean, all wash water must be properly controlled, contained and captured in accordance with the Clean Water Act . Alternative cleaning methods include the use of absorbents, cat litter, sand, etc. on the spilled fluids before sweeping them up. Remember that contaminated fluids can spill onto the ground when dumpsters are emptied and must not reach the storm water conveyance system.
Be Prepared for the Next Loading Dock Emergency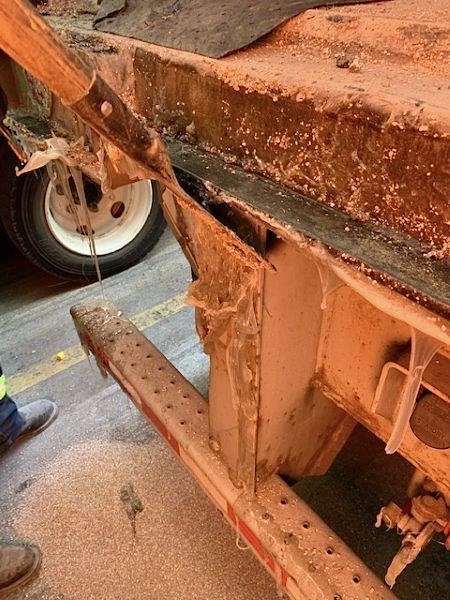 Assume that an emergency is always imminent. Accidents such as spills can transpire at any moment, such as a forklift crash. Workers must be trained and equipped to handle such situations. Having a written response plan in place, understood by all personnel, is pivotal. Regular training sessions ensure that everyone comprehends how to react when a loading dock spill occurs. A well-structured plan and comprehensive training serve to safeguard employees' health, protect lives, and mitigate environmental risks in the event of a spill.
Loading Dock Safety Training
Enhancing warehouse safety includes training forklift operators through online certification courses. Compliance with OSHA regulations mandates training and certification for all forklift operators. After training, certificates and operator cards can be immediately obtained. Recertifications required by OSHA every three years do not incur additional charges. HazChem provides Safety Training.
A Comprehensive Approach to Loading Dock Spills
Planning and training are crucial for spill response.

Identifying the spilled substance and reporting it promptly.

Call HazChem for assistance or expedited services. We are always open.

Prioritizing life safety, protect responders with appropriate PPE.

Containing the spill and addressing its source.

Thoroughly cleaning up the area and decontaminating it.

Completing necessary paperwork and restocking supplies.

Following EPA-compliant methods for effective cleanup.
HazChem Environmental ensures safe and effective loading dock spill solutions, adhering to EPA standards and regulations. Spill preparedness, training, and efficient cleanup are vital to maintaining workplace safety and environmental integrity.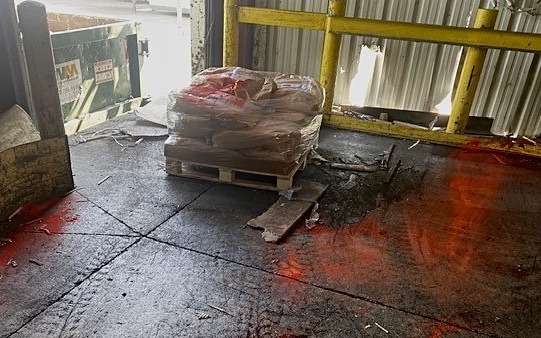 SUPER-FAST

 

60-Minute Response Time
We understand the urgent and critical nature of your call for service. Our Emergency Rapid Response Teams are ready, willing and able to respond quickly to remedy your emergency spill situation. Our Emergency Response Vehicles are pre-loaded with 90% of the equipment needed for any emergency situation. The final 10% will be added for your particular needs. This advance preparation enables us to deploy a Team within 60 minutes or less from our facility. Based upon our clients' feedback, this is far better than the typical response time from most of our competitors. Their response is usually measured in multiple hours, and sometimes days or even weeks. Our Team is always ready to deploy, 24 hours a day, 365 days per year, rain or shine, including holidays. We do not rely on automated answering systems for our main phone line (630) 458-1910. Instead, we guarantee that a live person will answer your call, regardless of whether it is a weekend, holiday, or any other day.
 Learn more about our Emergency Response Services. It's our specialty.

Compliant. Responsive. Safe.
 Call 630-458-1910 for immediate assistance. Open 24/7/365
For a FREE, no-obligation quote, click the button below