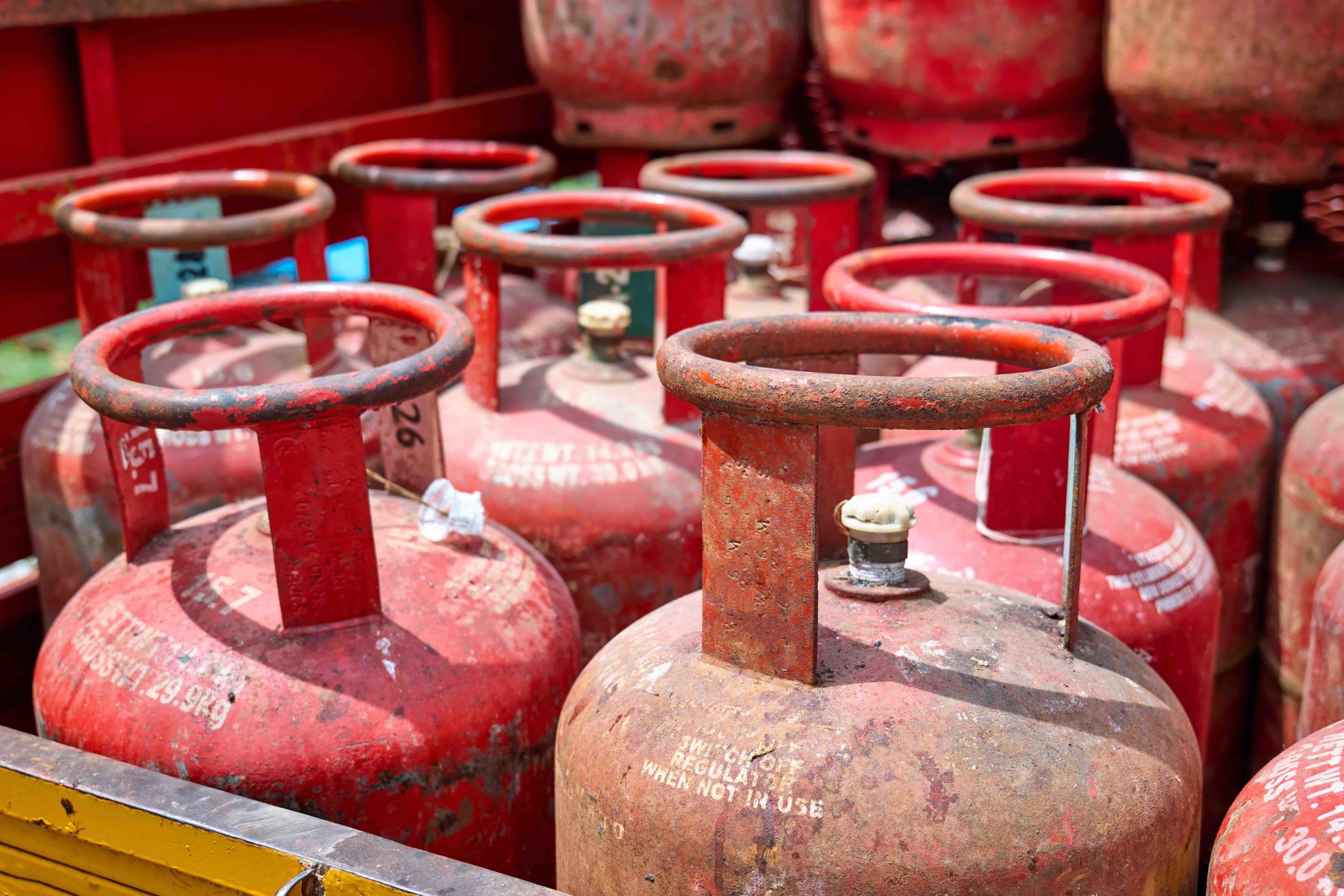 Compressed Gas Cylinder Transportation 
HazChem Environmental is a leading provider of compressed gas cylinder transport and gas cylinder disposal services. Our company serves as the premier choice for gas cylinder transportation, gas cylinder recycling and gas cylinder disposal among private industry clients and government agencies nationwide. We also provide oxygen tank disposal and propane tank disposal services.
Our team of specialists boasts an average of over 20 years of experience in the gas cylinder disposal industry. They receive comprehensive training to stay up-to-date on best practices and the latest technological advancements in compressed gas cylinder technology. Equipped with state-of-the-art tools and equipment, our specialists excel in handling and treating gas cylinders, particularly in cases involving gas cylinders with inoperable valves or when a containment vessel is required for compressed gas cylinder transportation.
On-Site Gas Cylinder Sampling & Identification
Handling compressed gas cylinders with unknown contents presents a significant risk that should only be undertaken by personnel with extensive experience, specialized training, and appropriate equipment. At HazChem, every compressed gas cylinder that comes into our possession is subjected to a thorough inspection by one of our specialists. Using our unique manifold system, portable laboratory and identification equipment, we manually inspect and sample each gas cylinder individually not only to determine the unknown content, but also to determine the physical integrity of the compressed gas cylinder for packaging, gas cylinder transportation or gas cylinder disposal. Our unique unknown-gas identification process using FT-IR (Fourrier Transform Infrared) detection devices allows us to securely identify and process compressed gas cylinders AT YOUR SITE, saving you time and money.
Compressed Gas Cylinder Transportation
At HazChem, we possess the necessary equipment and expertise to handle leaking or unsuitable compressed gas cylinders for gas cylinder transport due to defects such as corrosion, fire damage, or bulging cylinder walls. We own a variety of salvage cylinders that adhere to DOT specifications, which can be used to contain leaking or damaged cylinders for gas cylinder transportation. Additionally, our Gas Cylinder Specialists are well-versed in using specialized equipment to transfer the contents of non-shippable gas cylinders, including those with inoperable valves.
With our extensive transportation fleet, we offer comprehensive gas cylinder management services from pickup to final gas cylinder disposal or gas cylinder recycling, regardless of the type or size of the gas cylinders or portable tanks. As we fully own and operate our fleet and equipment, we can provide you with enhanced efficiency throughout the entire compressed gas cylinder disposal process.
Gas Cylinder Recycling and Gas Cylinder Disposal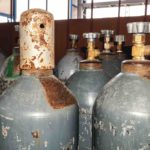 For gases that are suitable for recycling, we collaborate with select firms that utilize the cylinder contents as raw ingredients in industrial processes or as substitutes for commercial materials. Once the gases have been treated or recycled, HazChem purges, rinses, and decommissions the empty cylinders. All cylinder markings are reclaimed for their metal value, and any residual solutions from the gas treatment are meticulously tracked to an approved disposal facility.
The 3 R's of HazChem
Recycle: The contents of many compressed gas cylinders can be recycled into useful products, which reduces your total annual waste disposal volumes for significant overall cost savings.
Repackage: When gas cylinders are leaking, damaged or defective, they may require re-packaging before being transported for disposal or recycling. Our HazChem professionals make sure that any compromised gas cylinders are transferred safely and quickly.
React: When all other removal options have been exhausted, HazChem can safely react-off materials in a closed loop system, utilizing reactors and mobile scrubber systems.
Experienced Gas Cylinder Professionals
HazChem's skill, training and expertise in the development of recycling processes for gas cylinders means you'll have direct access to some of the top industry professionals in the country. Call HazChem today for safe, efficient and cost-effective gas cylinder management. This includes compressed gas cylinder transportation, gas cylinder recycling, oxygen tank disposal and gas cylinder disposal.  Call (630) 458-1910 today.
SUPER-FAST

 

60-Minute Response Time
We understand the urgent and critical nature of your call for service. Our Emergency Rapid Response Teams are ready, willing and able to respond quickly to remedy your emergency situation. Our Emergency Response Vehicles are pre-loaded with 90% of the equipment needed for any emergency situation. The final 10% will be added for your particular needs. This advance preparation enables us to deploy a Team within 60 minutes or less from our facility. Based upon our clients' feedback, this is far better than the typical response time from most of our competitors. Their response is usually measured in multiple hours, and sometimes days or even weeks. Our Team is always ready to deploy, 24 hours a day, 365 days per year, rain or shine, including holidays. We do not rely on automated answering systems for our main phone line (630) 458-1910. Instead, we guarantee that a live person will answer your call, regardless of whether it is a weekend, holiday, or any other day.
If you would like more information, please also visit our Hazardous Waste Removal page, or View other HazChem Services.

Compliant. Responsive. Safe.
 Call 630-458-1910 for immediate assistance. Open 24/7/365
For a FREE, no-obligation quote, click the button below