BIOHAZARD CLEANUP SERVICES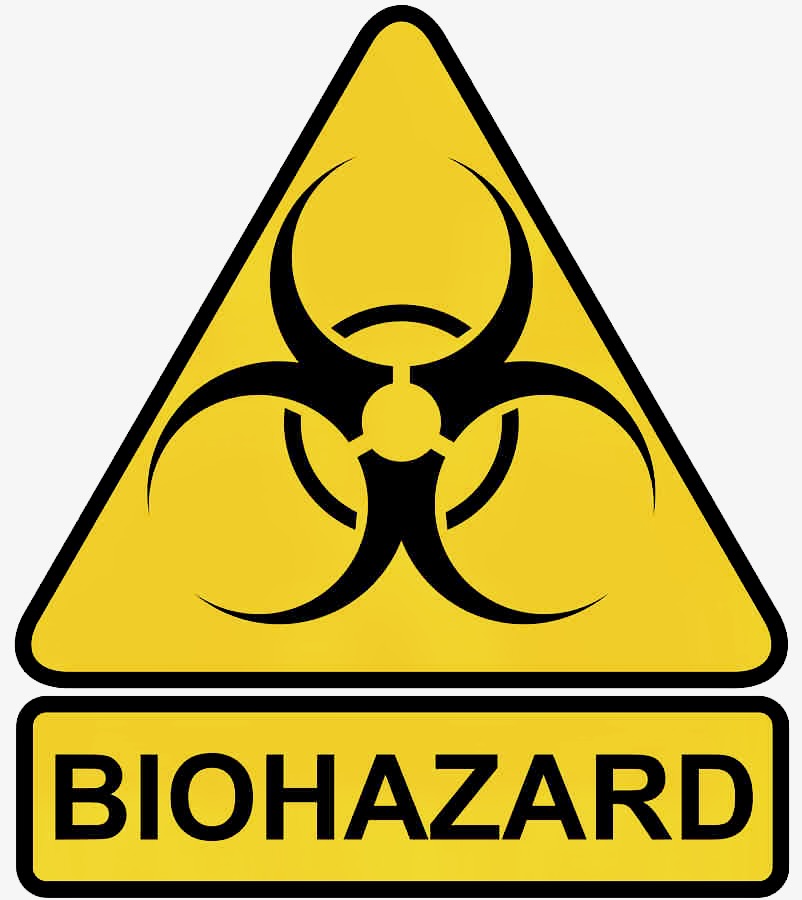 HazChem Environmental provides a wide range of biohazard cleanup services. This includes biohazard waste disposal, biomedical waste disposal, biohazard remediation, blood cleanup and other biohazard cleaning. As a professional biohazard cleaning company, we understand the urgency, dangers and regulations surrounding every biological hazard situation. Our certified HAZWOPER biohazard cleaners will be on site quickly to ensure the safety of your personnel and facilities in every biohazard emergency situation.
What is a Biohazard?
A biohazard, or biological hazard, is a biological agent, such as an infectious microorganism, or a condition that poses a threat to living organisms, primarily humans. This may include a sample of a toxin, virus or other microorganism which can be detrimental to human health. Blood is the most common biohazard that we encounter. Some biohazards originate as an unwanted side effect of scientists working on or with viruses or toxins. The most common type of biohazard is medical waste. This would include items such as syringes or other tools or instruments that have been contaminated by bacteria, human blood or other microorganisms. Other biological hazards include fungus spores, mold, human waste, animal infestations, and industrial chemicals.
The CDC has classified biohazards into specific biological safety levels, or biosafety levels, as safety precautions to protect laboratory personnel and reduce risk in the laboratory.
What is Biohazard Cleanup?
Biohazard cleanup services involve the meticulous removal, cleaning, and disinfection of biohazardous materials such as blood, bodily fluids, and other potentially infectious substances from crime scenes, accident sites, laboratories or other locations affected by biohazards. These biohazards can include bodily fluids like urine, feces, vomit, as well as materials contaminated with bacteria, viruses, or other pathogens.
Biohazard cleanup demands specialized equipment, training, and expertise. It cannot be undertaken by just anyone, and it is not a task suited for DIY attempts. Proper biohazard cleanup is of utmost importance to ensure the safety of individuals who may encounter the affected area in the future.
The Importance of Biohazard Cleaning
Biohazard cleanup carries several crucial benefits. Foremost, it is essential for safeguarding the health and well-being of those who may come into contact with the affected area. Blood, bodily fluids, and other potentially infectious materials can harbor a wide range of pathogens, including serious diseases like HIV, hepatitis B and C. Thorough biological hazard cleaning and disinfection are necessary to eliminate these pathogens and minimize the risk of infection.
In addition to protecting public health, biohazard cleanup is also vital for psychological reasons. Cleaning up after a traumatic event can be emotionally challenging, particularly for the victim's family, friends, or coworkers. Enlisting the services of a professional biohazard cleanup company can alleviate some of the emotional burden, enabling those affected to focus on healing and recovery.
Proper Handling of Biohazard Cleanup
Biohazard cleanup should always be entrusted to professional companies equipped with the appropriate tools, training, and expertise. The Occupational Safety and Health Administration (OSHA) has established strict guidelines for biohazard cleanup, and failure to adhere to these guidelines can result in fines and legal repercussions.
Professional biohazard cleanup companies employ various tools and techniques to clean and disinfect affected areas. These may include personal protective equipment (PPE), specialized cleaning agents, and high-powered cleaning tools like pressure washers and air scrubbers. The objective is to eliminate all visible and invisible traces of biohazard materials, restoring the affected area to a safe and clean condition.
It's important to note that biohazard cleanup is not a one-size-fits-all process. The specific techniques and equipment employed depend on the type and severity of the biohazard, as well as the size and location of the affected area. A professional biohazard cleanup company will assess the situation and develop a customized biohazard cleanup plan, ensuring the removal of all hazards and the restoration of a safe and clean environment.
Biohazard cleanup stands as a critical component of disaster restoration that should never be underestimated. Proper cleaning and disinfection are imperative for protecting public health and ensuring the safety of individuals who may encounter the affected area in the future. If faced with a biohazard cleanup situation, promptly reach out to a professional biohazard cleanup company. They possess the expertise, equipment, and training necessary to effectively and safely clean and disinfect the affected area, restoring it to a safe and clean state.
HazChem: Your Trusted Biohazard Cleaning Company
Our licensed, insured, and certified HazChem biohazard restoration professionals specialize in the safe remediation of biohazardous waste, adhering to all applicable laws and standards. We understand that certain situations require sensitivity, compassion, and discretion. Whether the damage occurs in a laboratory, commercial facility, or business office, our team brings a sense of calm and expertise to those impacted.
Our Biohazard Cleaning Services include:
Blood and bodily f

luid

remediation

Virus

decontamination and p

rotection

Sewage

cleanup and sanitation

Biomedical waste disposal

Deodorization and o

dor

control

Crime scene Cleanup

Meth lab cleanup

Mold or fungus infestations

Localized disease outbreaks

Hoarding cleanup
Biohazard cleanup entails the thorough cleaning, sanitization, and deodorization of areas affected by traumatic events like accidents, injuries, or deaths. Such situations often involve dealing with blood, human or animal remains, chemical spills, and more. It's important to note that after police investigators collect evidence from a crime scene, the responsibility for biohazard cleaning falls on the property owner. Engaging a professional biohazard cleanup team is essential, and they can only arrive on-site once the police have gathered sufficient evidence.
Understanding the Blood or Other Potentially Infectious Materials (BOPIM) Standard
In 1991, the Occupational Safety and Health Administration (OSHA) established the Blood or Other Potentially Infectious Materials (BOPIM) standard to safeguard workers from bloodborne pathogens and other infectious materials. This standard provides protection for approximately 5.6 million workers in the healthcare and related industries, encompassing biohazard remediation.
The BOPIM standard entails specific requirements, including:
Implementation of work practice controls

Use of appropriate Personal Protective Equipment (PPE)

Proper handling, transport, and disposal of hazardous medical waste

Required vaccinations

Mandatory training

Record keeping
Common Biohazard Cleanup Examples
Biohazard cleanup encompasses a range of scenarios, including:
Crime or homicide scenes                                                           

Blood clean up services

D

eath cleanup

Bodily fluid

and blood cleanup

Suicide cleaning

Homicide cleanup

Hoarding situations

Animal waste or remains

Biohazard containers

Chemical spills

Coronavirus contamination
Each time technicians handle potentially hazardous materials, they face significant risks. Therefore, following proper training and safety procedures is crucial, not only for their own well-being but also for the individuals who will inhabit the property after the biohazard cleanup is completed.
Is Biohazard Cleanup Certification Required?
While a certificate is not mandatory to become a biohazard technician, OSHA does require technicians to wear appropriate PPE when dealing with blood-borne pathogens. Personal Protective Equipment plays a critical role in ensuring worker safety by preventing hazardous materials from entering the body through the skin, eyes, mouth, nose, or other areas. Although PPE requirements may vary depending on the job, it typically includes full-face protection, gloves, properly designated waterproof coveralls, and a respirator.
Reputable restoration companies provide biohazard remediation training for technicians, including instruction on OSHA's safety protocols when handling biohazardous waste. This training reduces the risk of accidents and potential legal liabilities.
Our Biohazard Cleaning Process
Our biohazard remediation crew begins by identifying the affected areas and determining the scope of the biohazard cleanup. Once a comprehensive plan is established, biohazard remediation efforts commence promptly. Throughout the process, biohazard technicians prioritize their own safety and the safety of others near the cleanup site.
The subsequent steps involve the removal of all potentially infectious materials from the site. Hazardous medical waste, such as spinal fluid, peritoneal fluid, amniotic fluid, and other bodily fluids, is handled in accordance with OSHA regulations and sent to licensed hazardous medical waste incinerators. Technicians adhere to industry standards and state regulations when removing porous materials like fabric and carpeting. Non-hazardous materials are either removed or decontaminated and sanitized if salvageable.
After the biohazard cleanup and sanitization process, technicians deodorize the affected areas. In cases where stains from the incident remain, walls and flooring may be sealed to cover them up. Typically, removing contaminated materials, followed by thorough cleaning and sanitization, effectively eliminates odors. In some instances, the crew may utilize hydroxyls or ozone to ensure complete odor elimination.
Providing Biohazard Cleanup Services with Empathy
At HazChem, we understand that dealing with this type of cleanup requires exceptional care and compassion. We empathize with individuals facing traumatic situations, and our restoration professionals ensure that their actions do not exacerbate the sense of loss experienced by property owners. We prioritize sensitivity and support throughout the entire process.
The HazChem Emergency Rapid Response Team
HazChem's Emergency Rapid Response Team offers the most effective method for sanitizing public areas. This comprehensive system helps prevent the spread of pathogen-based illnesses, including Influenza and Norovirus. Our process utilizes EPA-registered, safe products that provide up to three months of protection against pathogens. Contact us proactively to establish a clean environment before an outbreak occurs.
For Reliable Biohazard Cleaning Services, Trust HazChem!
When a biohazard incident occurs, don't hesitate to reach out to the biohazard professionals at HazChem, a professional biohazard cleaner, for thorough cleanup and disinfection of the contaminated site. Our technicians employ state-of-the-art equipment and proven techniques to deliver effective biohazard remediation services.
The quality of our remediation services, our prompt response, and the compassion we demonstrate throughout the process makes HazChem the ideal choice for biohazard restoration. We are committed to doing whatever it takes to restore and rescue properties in all the communities we serve.
Professional Biohazard Waste Disposal Services
Biohazardous waste, also known as infectious, biomedical, or medical waste, is generated during the diagnosis, prevention, or treatment of diseases in humans or animals. Hospitals, healthcare facilities, veterinary offices, biological laboratories, and similar establishments are the primary generators of this waste. These entities often seek cost-effective methods of disposal. At HazChem, our certified HAZWOPER technicians specialize in professional biohazard waste disposal services and possess the capability to manage various types of biomedical waste, including contaminated sharps, pathological and anatomical waste, microbiological waste, blood and blood products, contaminated items, isolation waste, animal waste, and more.
To maintain compliance and ensure a safe facility for employees, patients, and customers, medical waste generators must possess a comprehensive understanding of the OSHA Bloodborne Pathogens Standard, as well as relevant state and local regulations. Our duty is to assist you in maintaining a safe and compliant facility. Our knowledgeable and trained biohazard professionals can efficiently and safely remove prepackaged biomedical waste without requiring a contract. We can also provide you with appropriate biohazard containers for future collections. Contact us or request a quote or to learn more about our biohazard cleanup and hazardous waste disposal services. We also offer Medical Waste Services.
SUPER-FAST 60-Minute Response Time
We understand the urgent and critical nature of your call for service. Our Emergency Rapid Response Teams are ready, willing and able to respond quickly to remedy your emergency situation. Our Emergency Response Vehicles are pre-loaded with 90% of the equipment needed for any emergency situation. The final 10% will be added for your particular needs. This advance preparation enables us to deploy a Team within 60 minutes or less from our facility. Based upon our clients' feedback, this is far better than the typical response time from most of our competitors. Their response is usually measured in multiple hours, and sometimes days or even weeks. Our Team is always ready to deploy, 24 hours a day, 365 days per year, rain or shine, including holidays. We do not rely on automated answering systems for our main phone line (630) 458-1910. Instead, we guarantee that a live person will answer your call, regardless of whether it is a weekend, holiday, or any other day.
We are always open: Call (630) 458-1910 for IMMEDIATE ASSISTANCE.
View all Environmental Services HazChem provides our valued customers.

Compliant. Responsive. Safe.
 Call 630-458-1910 for immediate assistance. Open 24/7/365
For a FREE, no-obligation quote, click the button below