HazChem Emergency Rapid Response Team was deployed for an emergency hazardous chemical spill cleanup, involving Glycol Ether.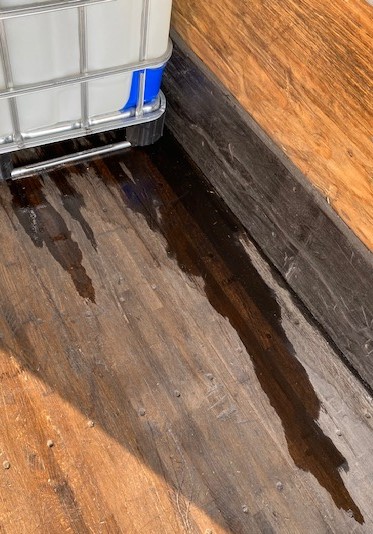 HazChem received an emergency phone call from the Operations Manager at one of the largest freight transfer companies in the Midwest.  He had an emergency hazardous chemical spill. Apparently, a 275-gallon tote filled with Glycol Ether was on one of the company trucks, and the tote was punctured at its top.  The truck was parked in Cuba City, Wisconsin, located 150 miles from HazChem Environmental's home base in Addison, Illinois.
 "We felt honored as a company that we were chosen to handle this emergency hazardous chemical spill," said Alan Shapiro, owner of HazChem. "We know there are other waste-disposal companies that are closer to Cuba City than we are. But I was told that HazChem was being chosen because we 'Get things done correctly, send the proper amount of technicians and charge a fair price.' These were very nice things to hear — and we immediately got right down to business."
Shapiro's Emergency Response Technicians loaded a HazChem Emergency Truck with a brand new 275-gallon tote (made by Mauser Packaging Solutions), a tote transfer kit, plenty of oil-dry, among other helpful items. Shapiro decided a three-man crew would be sufficient.
We Keep Customer Pricing in Mind
"I've been in this business for 30 years and one of the worst complaints I hear about some of our competitors is that they overcharge for jobs because they send eight people on a job when four would do," Shapiro said. "Or they'll send out too many people, such as 10 people when only five are needed. I know it's appreciated that we only send the proper amount of guys—this keeps our customers' price down and keeps them using our services again and again."  Shapiro decided to personally accompany the Team on this emergency spill call.
"Our customers sometimes are surprised when they see Alan Shapiro or myself at a job," said Chris Johnson, co-owner of HazChem. "But Alan and I still like to go out to jobs, get our hands dirty, stay active. It impresses our clients and reminds our own employees that the two owners only ask of others what we are still more than willing to do."
Experienced Professionals at Hazchem
Shapiro started at HazChem in 1991, working in the warehouse and learning how to become a technician. By 1997, Shapiro had moved into a management position at HazChem and Johnson was working as a truck driver for another company, making frequent delivery and pickup stops at HazChem.  "I would end up talking with Chris Johnson about the operations-end of the waste-disposal business and I could tell he just had a unique knack for how to do things properly," Shapiro recalled. "I wanted someone like him at HazChem."  Soon after, Johnson was hired as HazChem Director of Operations.
And over the next two decades, Johnson and Shapiro developed a uniquely strong bond, and the two ended up purchasing HazChem together.  "It was a dream-come-true for both of us," Shapiro said.  And ever since, HazChem has enjoyed consecutive years of non-stop growth, each subsequent year bringing in a new record for sales.
"But we have not forgotten where we came from," Shapiro said. "And so I was glad to be a part of this three-man crew handling this emergency in Cuba City, Wisconsin."  And in Cuba City, employing a forklift and pallet jack, the HazChem crew moved the freight around on the parked truck of HazChem's client.  "That went very smoothly," said E.N, one of the HazChem crew members. "We were able to get to the punctured tote relatively quickly."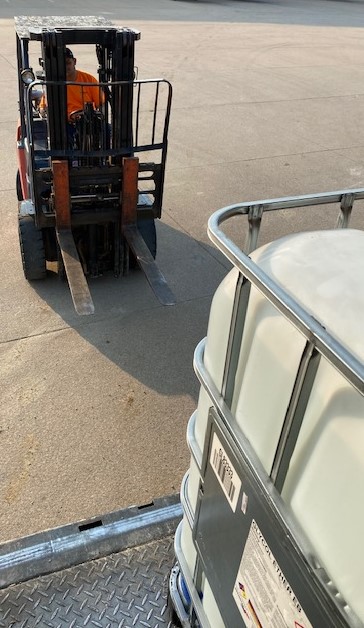 Operating the forklift, E.N. moved the tote off the truck and then the three-man crew set things up for the tote transfer.  And keep in mind: Glycol Ether isn't something to mess around with; the EPA has deemed it a hazardous material. Even short-term exposure can cause sever liver and kidney damage in humans. More rare, but still possible, are neurological damage, tremors and anemia.  Shapiro instructed his crew to wear Level "C" Tyvec Suits with Air Purifying Respirators.
Safety First at Hazchem Environmental
"The Number One thing that Alan Shapiro and I will always stress with our employees," said Johnson, "is safety. On this job, I know Alan made sure the driver stayed very far away while the tote transfer was being conducted and we made sure the suits and respirators were used by our team until the transfer was fully complete."
The transfer did go very smoothly.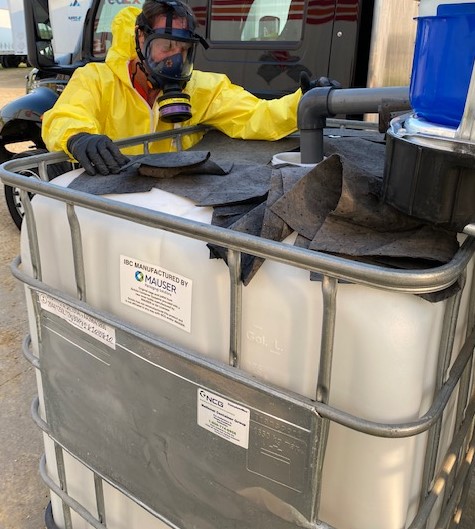 Tote transfer is conducted by HazChem crew in Cuba City, Wisconsin.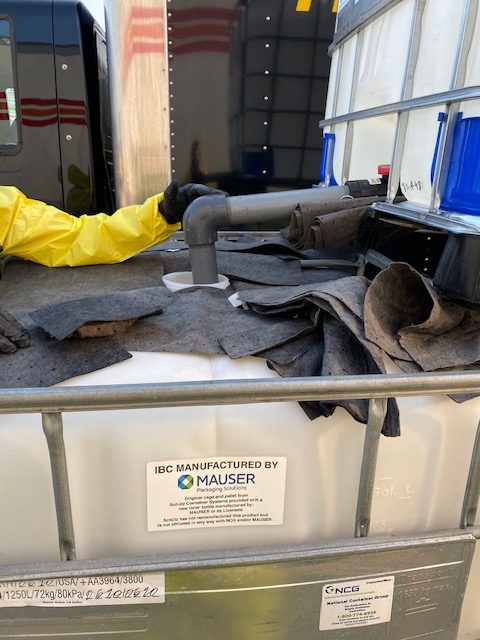 Prior to the transfer, the HazChem crew made sure the client's truck was completely clean. Some Glycol Ether had spilled on the trailer floor, and the HazChem crew absorbed and cleaned that solvent with oil dry. The waste was then promptly put into one of the 55-gallon Open-Top-Steel drums HazChem had brought to the spill site.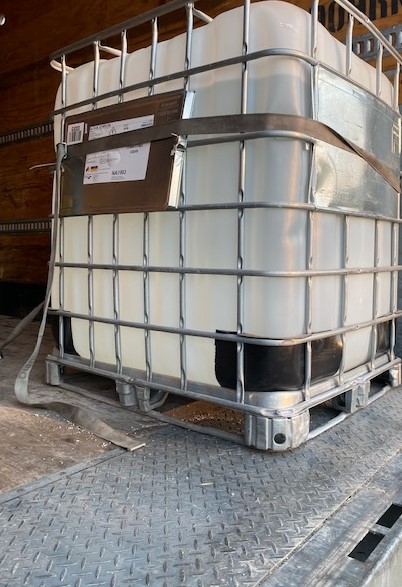 The new tote, now safely containing the Glycol Ether, was forklifted back onto the parked truck and, soon after, the happy truck driver was back on his way to his deliveries.  "We were pleased that their truck driver was so grateful for our help," Shapiro said.
The HazChem crew took the damaged tote back to the HazChem shop to be cut up and properly disposed.  "We are honored that so many companies in the Midwest continue to call us for their emergency needs, including emergency hazardous chemical spills," Shapiro said. "Many of these companies also use us for their more routine waste-disposal needs, too. It's great to hear from others that HazChem is excellent at both of those parts of this business — waste-disposal needs and emergency responses."