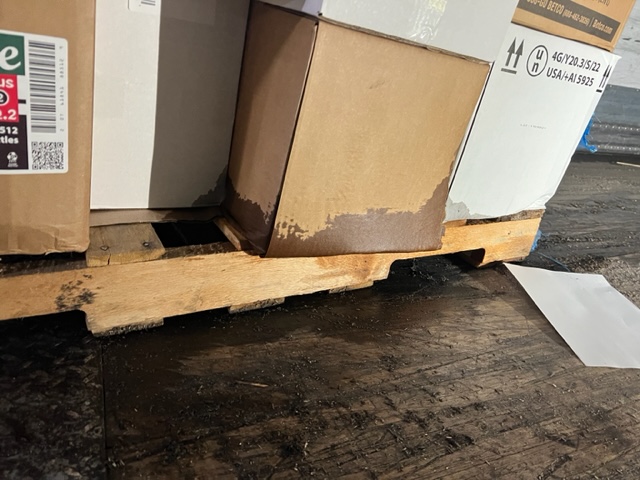 For many Americans, Saturday, Dec. 31, 2022, was a holiday, a chance to relax or participate in some celebration.
"Not for us," said Chris Johnson, with a bemused smile.
Johnson is co-owner of HazChem Environmental in Addison, IL.
"We make ourselves available to our clientele 24 hours a day, seven days per week, 365 days per year," Johnson explained. "We have to be prepared for any of our clients suffering a problem on Christmas, Thanksgiving and, yes, New Year's Eve."
On Dec. 31, 2022, at 10:35 p.m., HazChem received a phone call. One of the largest freight-carrying companies in the world found that cleaner had spilled on one of its trailers at one of its Chicagoland terminals.
This freight-carrying company has been a customer of HazChem's for 31 years.
"Well," said Johnson, "this customer of ours doesn't take the holidays off either. We were prepared for this and we had a three-person crew on-site in under 75 minutes."
HazChem keeps at least three fully trained hazmat employees on "emergency duty" at all hours of every day of the year.
"Of course we pay our own workers extra money to make themselves available for emergency work on a holiday," Johnson said. "They deserve extra pay.
"And so our customer was grateful that we got out there quick and helped them on New Year's Eve. To us, always being ready for emergency work is what helps make us a top-notch company."
Upon arrival at the terminal, the HazChem crew found two jugs of cleaner had spilled on a trailer.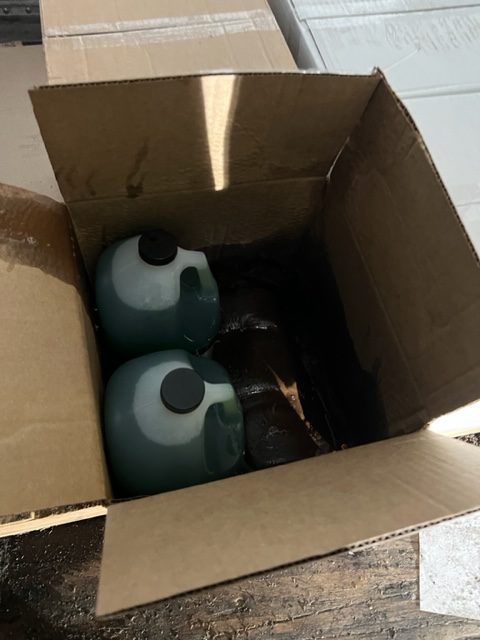 "The odor was very strong," said V.B., a four-year HazChem employee and the crew manager of this spill. "The terminal manager said the odor was bothering some of the forklift drivers on-site. This was a hazardous chemical so I told the terminal manager that we would rope off our work area and keep all terminal employees far away from this spill."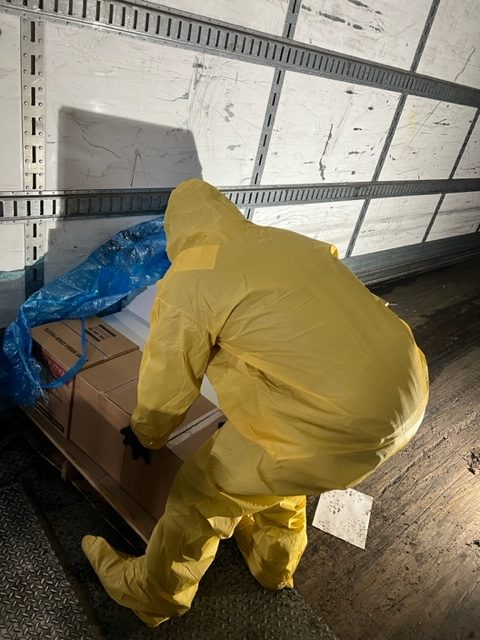 The HazChem crew donned Level "C" Tyvec Suits with Air Purifying Respirators.
Five boxes on a skid had been contaminated by the spillage from the jugs. The crew placed the two empty and damaged jugs into a 55-gallon open-top-poly drum.
The crew also put the contaminated cardboard into the waste drum.
The crew then put the undamaged jugs back on a skid and wrapped them tight for security.
"Our customers appreciate us going the extra mile and wrapping shippable products for them," V.B. said. "It wasn't a problem at all."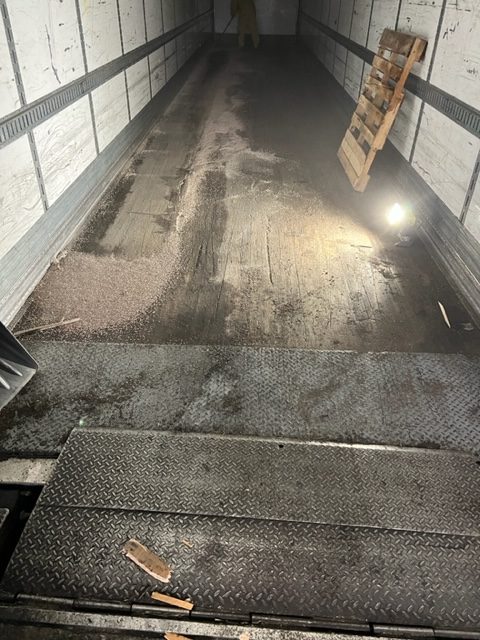 The crew cleaned the spillage on the trailer by laying down fresh oil dry, working that oil dry into the spill and then putting the worked-in oil dry into the drum of waste.
HazChem then received approval from the terminal manager for its cleanup work.
The crew had of course neutralized the spilled liquid before handling the cleanup.
The entire cleanup, once HazChem had arrived on-site, only took 45 minutes.
"It was excellent work by our crew," Johnson said. "The next day one of the officers of our customer called me personally to say thanks for being prepared during the holiday. She said, 'I knew you'd be available but it's always nice to see a company back up its promise to always be available.' "