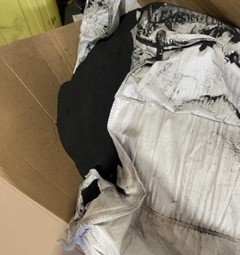 Carbon Black, when spilled, can cause problems.
According to Continental Carbon Company in Houston, a major manufacturer of Carbon Black, "occupational exposure to Carbon Black may result in a loss in one aspect of lung function."
That's enough of an issue for a large freight company with a terminal in the northeast part of Indiana.
On Oct. 31, 2022, two Super Sacks filled with Carbon Black had suffered leakage on its dock.
"The supervisor of the terminal of this freight company had sent us photos so we were fully prepared to fix this problem," said Alan Shapiro, Co-Owner of HazChem Environmental. "Chemical waste disposal is a specialty of ours. We knew how to handle this. This was a case where the simplest solution was the best."
HazChem's crew mobilized to the spill site immediately, bringing Super Sacks that HazChem had kept stored in its warehouse.
"Well," said Shapiro, "we keep a large supply of Super Sacks in our warehouse because they are used by freight carriers quite a bit. And so, due to the nature of the freight business, they're punctured a lot by forklifts."
Upon arriving at the spill site, the HazChem crew donned Level "C" Tyvec Suits with Air Purifying Respirators.
The crew used a Hepa-Vac Machine to clean up the spilled powder on the dock floor.
Then the crew, using the blades of a forklift, carefully and slowly lifted one of the damaged Super Sacks off the dock floor. The crew hurriedly moved a new Super Sack directly under the damaged one. Then the crew dropped the damaged bag into the new one.
"Simple," Shapiro said. "All of our technicians are trained well in handling a forklift."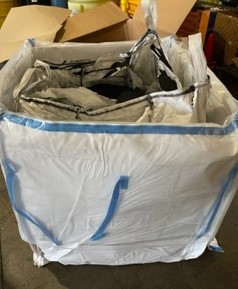 The second damaged Super Sack could not be lifted.
"The damage to the second Super Sack was too extensive to allow it to be lifted," Shapiro explained. "So our technicians needed to use brand-new shovels to carefully move the Carbon Black from the damaged sack to the second new sack we had brought on-site. Again, this was simple. It took more time but it wasn't anything difficult."
Within 35 minutes the transfer was complete.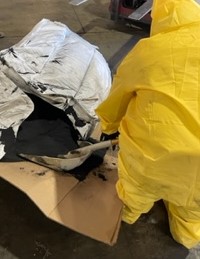 The freight company was pleased that much of the original product was again able to be shipped.
"Obviously, in a case like this, you must use brand-new shovels," Shapiro said. "You can't allow the product to be compromised by shovels that may have already been used."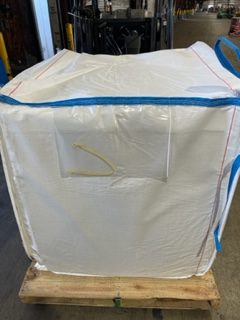 The entire on-site cleanup time only took 50 minutes.
"Their supervisor said she was pleased with our work," Shapiro said. "No employee of hers was overexposed to the Carbon Black. Our employees were safe, too.
"This was a simple cleanup."