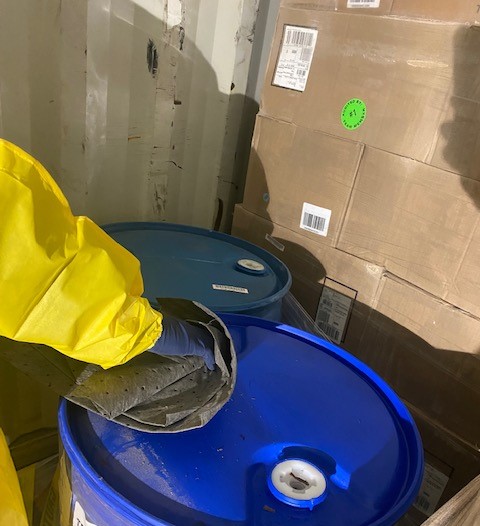 HazChem Environmental often gets called to handle chemical waste disposal and biological hazards. Every day, HazChem is asked to handle some type of issue regarding hazardous waste disposal.
Of course there are varying degrees of danger to the hazardous waste disposed.
Sulfuric acid is among the more dangerous chemical waste disposal jobs HazChem is asked to handle.
Sulfuric acid causes severe skin burns and serious eye damage. It can cause major damage to your teeth.
The state of New Jersey (NJ.gov) warns that workplace exposure to sulfuric acid can cause throat cancer.
And Tech Metals, LTD., a major manufacturer of sulfuric acid warns, sulfuric acid is "fatal if inhaled."
On October 28, 2021, at 7:37 a.m., HazChem received an emergency call from one of the world's largest freight companies. At one of its Illinois terminals, sulfuric acid had spilled inside a trailer.
"We didn't know the exact amount of sulfuric acid which had actually spilled inside this trailer," explained Alan Shapiro, co-owner of HazChem. "We were told that they thought only a small amount had leaked and only a small amount of freight had been affected. That was enough of a description for us.
"We don't want the freight transport company, our client, sending their own employees, who are untrained in how to handle this particular spilled hazardous product, inside a trailer.
"Basically, we at HazChem are prepared for a major amount to have been spilled and, if it is less, that makes things easier. But no matter what, our crew knows it is dealing with a dangerous product and must be safe."
At 8:57 a.m., a three-man crew of HazChem employees, fully trained and licensed hazmat technicians, arrived at the spill site.
They donned Level C Tyvec Suits with Air Purifying Respirators.
"There was a lot more freight contaminated than originally thought," said F. Y., the HazChem crew manager of this spill. "One drum had leaked the sulfuric acid out, but the leakage had spread to a lot of the boxes that were on the trailer. So we needed to cut all the contaminated cardboard and put this waste into a 55-gallon OTPs (open-top-poly drums)."
As for the damaged drum, the crew wiped it down with Universal Pads, neutralizing its outside with Sodium Bicarbonate.
"Whatever you want to call this — a biological hazard, a huge chemical waste disposal emergency or simply an emergency hazardous waste disposal — it's a threat," said F.Y. "We have to clean it up properly so that employees of our client have zero exposure to the sulfuric acid."
The spill had occurred because the bung on the affected drum was loose.
The crew neutralized each skid that had been on the trailer.
"And then once we had cleared all the freight out of the trailer, we needed to clean the trailer floor," explained F.Y. "The bicarbonate was laid down for neutralization, along with water, and then we laid down some oil dry to absorb and clean all the liquid."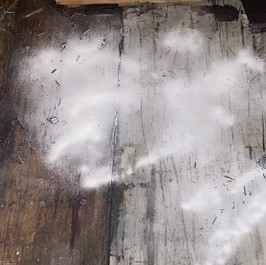 By 10:17 a.m., the cleanup work was complete.
All the waste from the cleanup was put into poly drums and those drums were properly labelled for transport and disposal.
"Our crew did an excellent job," said Chris Johnson, co-owner of HazChem. "With this hazardous waste disposal spill, I am happy that our crew made this trailer safe for our client, and did so relatively quickly. And, of course, I am very happy that our employees were careful and safe on how they handled the cleanup — safety comes first."