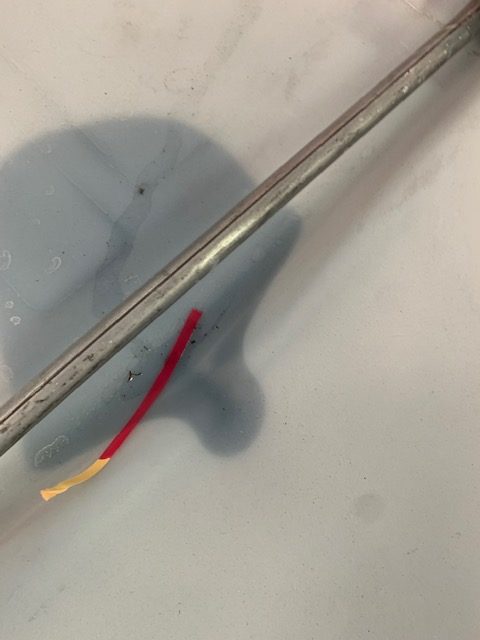 Friday, August 14, 2020. The time was 7:45 a.m.
One of the largest freight transport companies in the world, with revenue over $18 billion, had a 250-gallon tote full of sulfuric acid punctured at one of its ports in Illinois.
HazChem Environmental was immediately called.
"It's a huge honor when one of the most successful companies in the history of American commerce calls us for an emergency," said Alan Shapiro, Co-Owner of HazChem. "At the same time, we don't spend any time patting ourselves on the back — we've got to go to work, fast."
The tote had been punctured at its top. The port was 90 miles south of HazChem's home base in Addison, Illinois.
Sulfuric acid is a highly corrosive chemical that is potentially explosive. It can cause skin burns, damage the nose and throat, cause difficulties breathing, can burn the eyes, cause blindness and burn holes in the stomach—and that's just the Cliffsnotes version of things.
Sulfuric acid is a nasty, deadly, dangerous toxic. It must be handled with extreme care.
Among the three-man HazChem crew that mobilized to the site of this dangerous spill, two were fulltime firemen who work part-time for HazChem.
"Hiring so many firemen gives us a big advantage over our competitors," Shapiro said. "They are very disciplined and are a vital part of our company. Our fulltime employees get rigorous, year-round training in Hazmat-related issues. But firemen, obviously, also go through extremely intense training when it comes to dealing with danger.
"We felt confident that our crew would effectively handle this sulfuric acid spill at the port of one of our largest clients."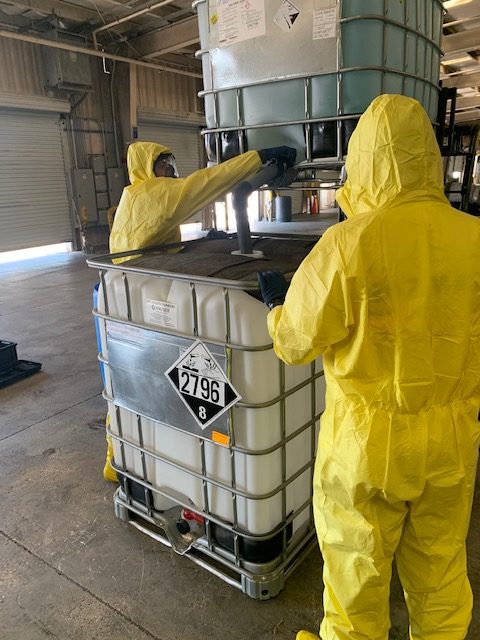 "We immediately put on Level C Tyvec suits with Air Purifying Respirators," said F.Y., the HazChem Crew Manager of this spill. "We had brought a brand new 250-gallon tote with us on our Emergency Truck and expected the transfer to go smooth."
It did.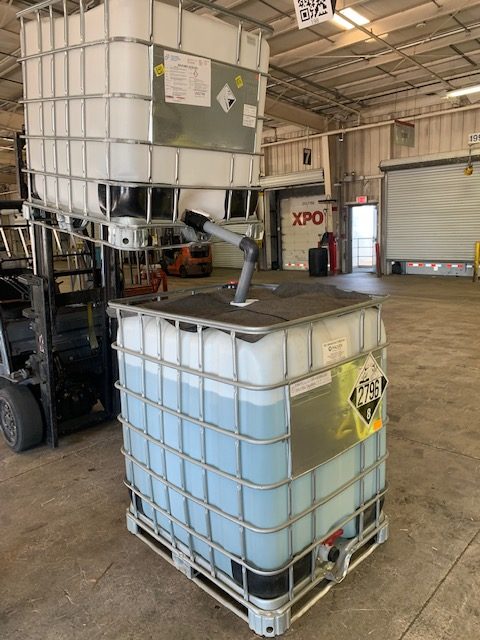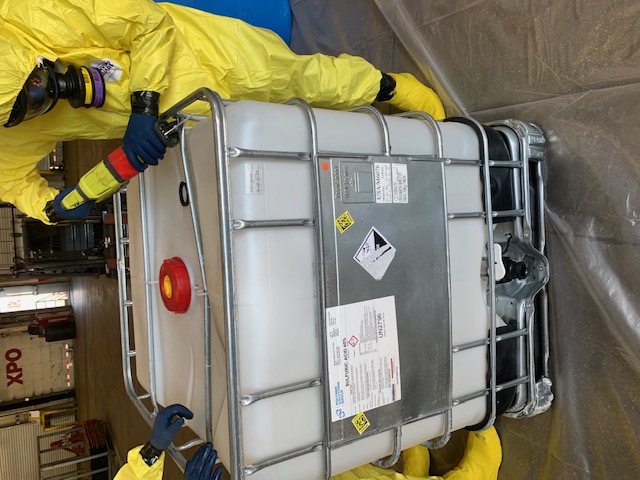 The crew then laid down Poly Sheeting to protect the floor of the port while cutting up the old tote with a Sawzall. The crew neutralized the remaining acid.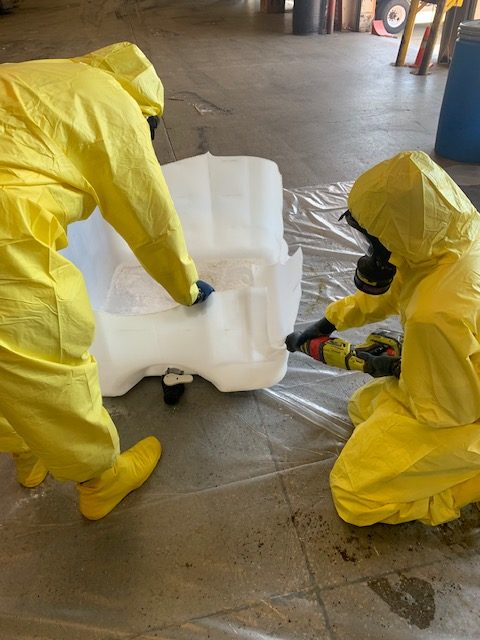 With the transfer fully completed, and the job done, HazChem properly labelled the new tote (containing the sulfuric acid), so its client could resend the tote onward to its original destination.
"From the time our crew arrived until they were done with the job, less than 90 minutes elapsed," noted Chris Johnson, Co-Owner of HazChem. "As owners, we appreciated that our crew knew exactly what to do, got down to business quickly and, at the same time, made sure they worked safely and made sure our client's employees were never even close to danger. And we received a 'Thank You' phone call from our client. We're honored that so many high-quality companies choose to call us when they face emergencies."