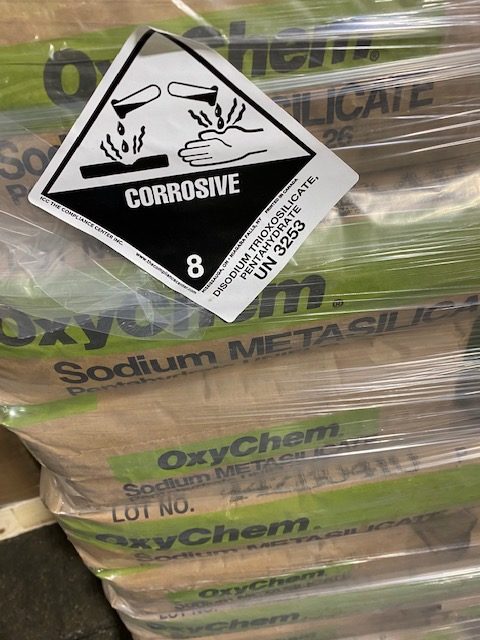 Disodium Trioxosilicate (Sodium Metasilicate) is not something a human being can be reckless with. According to the outstanding website Environmentalchemistry.com, "inhalation, ingestion or skin contact of Disodium Trioxosilicate may cause severe injury or death."
On Friday, May 28, 2021, at 2:15 a.m., one of the largest freight transportation companies in the world had a 50-pound bag torn open at one of its Chicagoland terminals. About 2 pounds of Disodium Trioxosilicate had been released on its dock floor.
By 2:18 a.m., HazChem Environmental was contacted via phone. The transportation company was requesting technicians from HazChem immediately mobilize to the terminal, clean up the spill, prevent further spreading, and ensure the workers at the terminal would be safe.
This particular freight transportation company has been using the services of HazChem for the past 28 years.
"Obviously we are always proud that large world-wide companies trust us at HazChem to clean up their emergency spills," said Alan Shapiro, Co-Owner of HazChem. "But when you're called at 2:18 in the morning, that's not the time to start beating your chest with pride. It's time to go to work."
And that is, literally, what Shapiro did.
Shapiro's Co-Owner, Chris Johnson, was already out on an emergency job, leading a crew in Neenah, Wisconsin, in cleaning up a large diesel spill.
Four other employees of Shapiro and Johnson were, at that exact time, in Indiana, cleaning up a fuel spill.
So Shapiro immediately left his home, headed over to the HazChem main shop in Addison, IL., and started up a HazChem emergency truck.
Of course, before leaving his home, Shapiro had called two of his employees and asked them to also drive into the HazChem shop.
"This happens on plenty of nights throughout the year for us," Shapiro explained. "We'll have our regular on-call crew at a job site cleaning up an emergency spill. And then a second client calls us with a problem, requiring more of our workers to clean up a middle-of-the-night spill. And while all that is going on, a third client calls.
"It's not a problem for us. We're used to it."
And by 2:57 a.m., Shapiro and two of his employees were on their way to clean up the Chicagoland spill of Disodium Trioxosilicate.
"We fully know the danger involved," Shapiro said. "So once we arrived at the terminal that had the spill, our crew donned Level 'C' Tyvec Suits and Air Purifying Respirators.
"Although 2 pounds may not seem like a lot, this product is not something to mess with. Our company takes pride in protecting both our own employees and the employees of our client. We needed to get this spill cleaned up completely and as quickly as possible."
The damaged bag was at the bottom of a skid.
"While fully protected, we cut through the protective shrink-wrap that was holding the bags in place so we could just restack the bags," Shapiro explained. "We of course inspected each and every bag on that skid. The we put the 'good' bags, the unbroken bags, onto a new skid."
Once the crew reached the bottom of the skid, they placed that bag into a 30-gallon Open-Top-Poly drum.
The crew then used a Hepa-Vac Machine to pick up the spilled powder.
The spill was contained, cleaned up and no injury occurred to any of the client's employees nor any HazChem technician.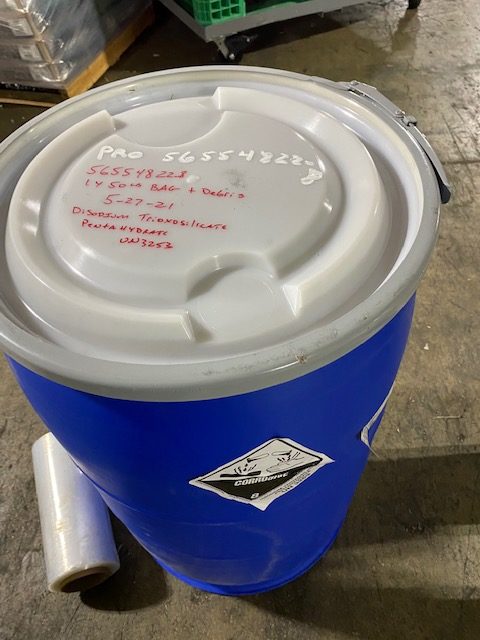 "By itself, this cleanup of the 2-pound spill in Chicagoland wasn't anything out of the ordinary for us," Johnson said. "But the onsite dock supervisor, who was new to the job, expressed his surprise that a co-owner of our company would come out in the middle of the night to clean up a spill.
"This is something Alan Shapiro and I both like to do: Go out on the middle-of-the-night spills. It shows our clients that we are hands-on owners. Also, our own employees get a reminder that both owners still don't mind getting our hands dirty.
"Our company was built on our ability to clean up hazardous spills. We take a lot of pride that we get called 24 hours a day, 365 days a year. We aren't EVER closed for business – and both Alan Shapiro and I take pride in that."