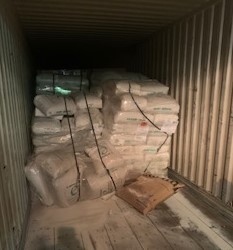 Versatility.
If part of your business requires that you clean up spills involving hazardous and/or non-hazardous waste, it pays to have versatile employees.
At 5:54 p.m., October 5, HazChem Environmental Corporation (Hazchem.com) received an emergency spill phone call.
One of the top freight-carrying companies in the world had suffered what it described as a "small" spill of Alumino Silicate powder on a truck trailer. To be more precise, it was reported to HazChem "about a cup" of the powder had spilled onto the trailer's floor.
The spill had occurred at a Chicagoland terminal owned by the freight-carrying company.
Once the HazChem crew arrived onsite, some freight was moved and a thorough evaluation took place.
"Well," said HazChem Co-Owner Alan Shapiro, "our crew had discovered that 250 pounds of the powder had spilled. These things can happen in our business. You are expected to clean 'a small amount' and you soon discover you will be cleaning up much, much more. This was not the fault of our customer at all — they simply couldn't see exactly how much had spilled out.
"Our crew did its best with the supplies on hand to get the spill cleaned up. And our crew leader on this particular job came up with an excellent game plan. It's good to be versatile."
About 250 bags of the Alumino Silicate were leaking.
The HazChem crew leader on this particular cleanup job also serves as a fulltime Lieutenant in a Chicagoland Fire Department.
"The damage was caused by tight packing bands and from the bags falling over during transport," said the Lieutenant, who works almost every week of the year for HazChem on a part-time basis and, in 2020, has overseen HazChem's COVID-19 response teams. "On this particular spill, we uncovered 13 bags which were totally ripped open. But most of the bags that had been shipped had at least a slight problem with leakage."
The crew had used shovels and a Hepa Vacuum machine to pick up as much loose powder off the trailer floor and the dock as possible.
The customer decided it wanted all but the 13 totally ripped bags to be saved and re-sent out.
"There was no reason to panic, and our crew manager had the perfect solution to the problem," said Shapiro. "He called me and said we should send him via truck 10 Super Sack Over-Pack bags."
Shapiro handled that task himself.
"We had a crew of six working at another spill in Indiana and so I was glad to help the Lieutenant," Shapiro said. "My Co-Owner Chris Johnson and I feel it's important that he and I still get our hands dirty. Even though we've both been working in this business a long time (thirty years for Shapiro, twenty-plus years for Johnson), working on the spills keeps you sharp. So I did go to our shop (in Addison, IL), picked up the Super Sacks, drove to the Chicagoland site, grabbed some gloves and was ready to go to work."
HazChem uses the BAG CORP Super Sack,* an outstanding product.
Once Shapiro arrived onsite, the HazChem crew picked up each bag (weight 50 pounds) and orderly placed them into the Super Sacks.
"It turns out we were able to fit all the bags the customer wanted saved into three 95-gallon over-pack poly drums and eight of our Super Sacks," said the Lieutenant.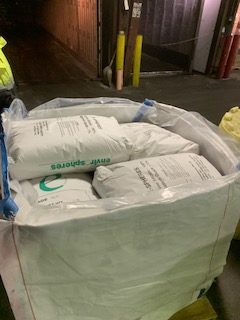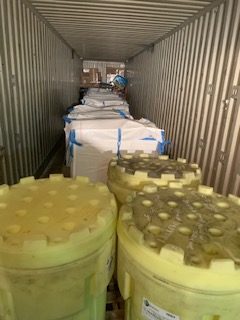 All the while, the crew continued to work closely with the customer's Dock Supervisor.
"I've known this supervisor for around 15 years," Shapiro said. "He fully trusts us and we trust him. He wanted us to move the merchandise back into the trailer because there was no room for all of this in OS&D (Overage, Short & Damaged)."
At the job's conclusion, the Dock Supervisor thanked Shapiro and the Lieutenant.
"It's always gratifying to hear the words, 'Thank You,'" Shapiro said. "The Dock Supervisor said we made it easy for him to keep his dock running smoothly the entire time we were there.
"It's good that we do over 1,000 spills a year because it keeps us ready for just about anything. In this business, you always have to be efficient, work safely and, when possible, work quickly."
And be versatile.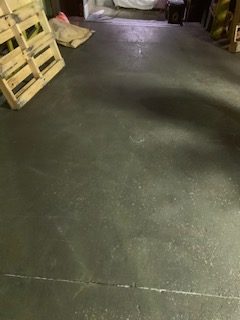 *Super Sack is a registered trademark of BAG CORP