Hydrochloric Acid can be problematic. If inhaled by a human, shortness of breath and irritation of the lungs can occur. Hydrochloric Acid can also build up fluid in the lungs and that can cause death.
Because Hydrochloric Acid is corrosive, it can cause eye damage, including blindness, if it is splashed in the eyes. On Wednesday, Sept. 2, at 12:55 a.m., HazChem Environmental was called to handle an emergency spill of Hydrochloric Acid at a terminal of one of the largest freight transportation companies in the world.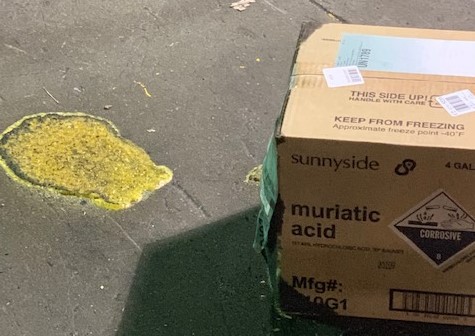 The spill occurred on the dock floor of the terminal, and the location was 40 miles south of HazChem's home base in Addison, IL.
"This was not a large spill as far as quantity goes," said Alan Shapiro, Co-Owner of HazChem. "But when our client calls us and tells us that Hydrochloric Acid is on its dock floor, we know that's a huge risk to our client's workers and this type of spill needs to be cleaned up with extreme care and, if possible, quickly."
At 2:05 a.m., the three-man, HazMat-trained crew from HazChem was already on site.
"We had an excellent crew on this particular spill," said Chris Johnson, Co-Owner of HazChem.
One of the crew members was a retired fireman, another was a fulltime fireman who works in Chicago (and part-time for HazChem). The designated HazChem crew leader for this spill also serves as Lieutenant of a major Fire Department in the suburbs of Chicago.
"Having so many firemen, and former firemen, who work for us gives us a huge edge over our competitors," Johnson said. "Our fire fighters are all highly disciplined with an excellent work ethic. And of course they're fully trained in how to properly handle emergencies."
The Lieutenant also serves as an instructor in safety courses all over America.
"On this particular spill, when we arrived on site, I saw a box containing four 1-gallon containers of UN1789 (Hydrochloric Acid)," said the Lieutenant. "The box was wet, smoking and had released approximately eight ounces of product on the dock floor."
The Lieutenant and another member of the crew donned Level C Tyvec Suits with Air Purifying Respirators and butyl (chemical resistant) gloves. "The four 1-gallon containers were removed from the box," the Lieutenant explained. "All the caps were tightened."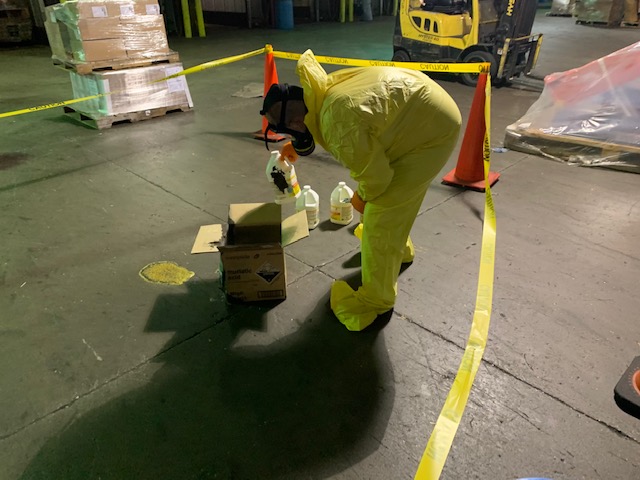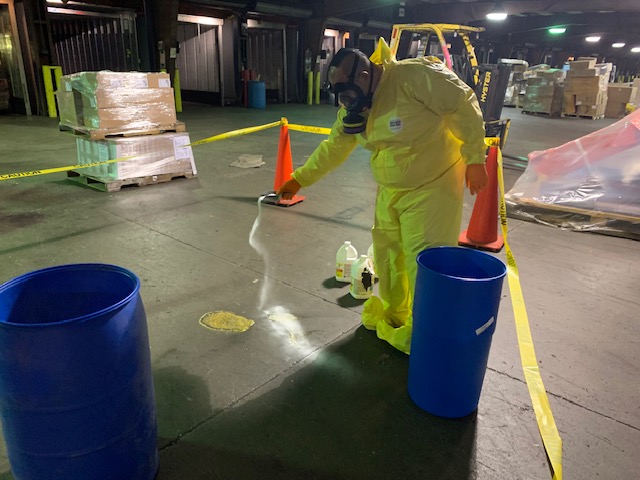 A mixture of Sodium Bicarbonate and water was created. The crew used pads with the sodium bicarb to wipe down the containers. The containers were then over-packed into a 15-gallon Open-Top-Poly drum.
"Then," said the Lieutenant, "we used the sodium bicarb and oil dry to neutralize and absorb the material that had spilled onto the dock floor."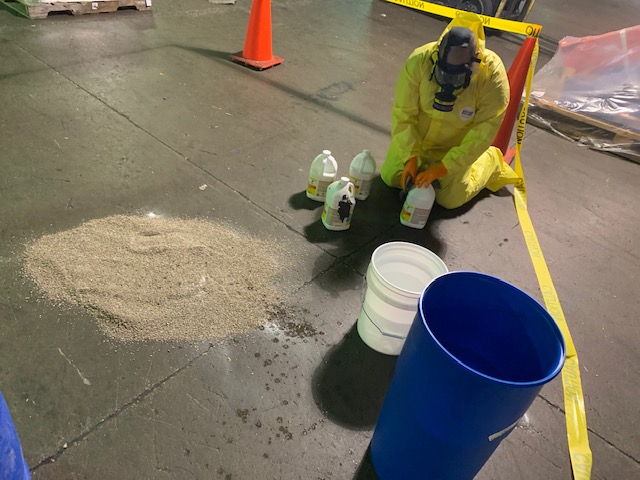 By 2:40 a.m., less than 35 minutes after the HazChem crew had arrived, the cleanup job was complete.
"We're proud of the fact that we get down to business quickly," Shapiro said. "Safety comes first for us. And with this top-notch crew, we knew everything would be handled safely. But our crew also realized that this area was roped off and thus causing a disruption in our client's usual pattern of business. So our crew felt that getting this job done quickly was also important.
"This is one of those type of spills we take a lot of pride in. We arrive promptly, we assess the situation, a game-plan is hatched, the job gets done safely and with speed — and our client gets right back down to work without any of their workers suffering any type of injury at all.
"We've done thousands of jobs like this over the past 30 years. We're proud that one of the top freight-transportation companies in the world continues to put its faith in us."